Any time I make this banana cake, it is always a huge hit. I have always loved banana bread, but this cake takes banana bread up a notch. The moist, tender cake packed with banana flavor goes perfectly with the light, fluffy cream cheese frosting. Once you've tried it, you'll have found a new favorite dessert. Enjoy!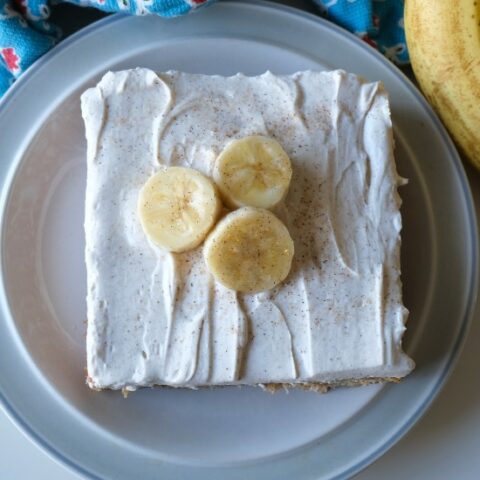 Banana Cake
The best banana cake I've ever tasted! Light, tender and packed with banana flavor all topped with light, fluffy cream cheese frosting.
Ingredients
Cake
2 cups all-purpose flour
1 teaspoon baking soda
1 teaspoon cinnamon
1/2 teaspoon salt
1 cup granulated sugar
1/2 cup brown sugar (packed)
2 eggs
1/2 cup salted butter, softened
1 teaspoon vanilla
1 cup mashed bananas (about 3 medium bananas)
1/2 cup full-fat buttermilk
1 cup chopped pecans (optional)
Cream Cheese Frosting
1 (8oz) block of full-fat cream cheese, softened
1 cup granulated sugar
1/8 teaspoon salt
1 teaspoon vanilla
1 teaspoon cinnamon
1 1/2 cup heavy whipping cream, cold
Instructions
For the Cake:
Preheat oven to 350 degrees Fahrenheit. Grease a 9x13" pan and set it aside.
In a medium bowl, whisk together the flour, baking soda, cinnamon, and salt. In a separate bowl, cream the butter, granulated sugar, and brown sugar. Beat in eggs one at a time, then mix in the vanilla and mashed bananas.
Fold in half of the flour mixture. Then gently mix in the buttermilk. Lastly, fold in the other half of the flour mixture. Be careful not to overmix, or it will make the cake dry and tough.
Spread batter evenly in the greased 9x13" pan. Bake for 20-30 minutes or until browned and a toothpick inserted in the center comes back with just a few crumbs. Remove from oven and let cool completely on a cooling rack.
For the Frosting:
In a large bowl, beat the cream cheese for about 30 seconds. Then add the sugar, salt, cinnamon, and vanilla. Whip until creamy without lumps and the sugar has fully dissolved. If you taste the cream cheese mixture, it should not feel gritty.
In a medium bowl, whip the heavy whipping cream with a mixer until it just forms stiff peaks.
Beat whipped cream and cream cheese mixture together until fully combined and fluffy. Spread over the cooled cake.
Enjoy!

Notes
1. For the cream cheese part of the frosting, I like to use softened cream cheese. If you don't remember to put your cream cheese out on the counter, you can microwave it for 10-15 seconds on each side to get it slightly softened.
2. I recommend whipping the heavy whipping cream in a cold bowl with a cold whisk attachment. I usually stick my bowl and whisk attachment in the freezer while baking the cake, so they are cold by the time I start making my frosting.
3. If you don't have buttermilk, add 1 tablespoon vinegar or lemon juice to your measuring cup, then fill it to the 1/2 cup mark with 2% or whole milk.
4. If desired, you can also make ~2 dozen cupcakes. Fill the liners about halfway full and bake for 15-20 minutes at 350 degrees Fahrenheit.
Nutrition Information:
Yield:

15
Serving Size:

1
Amount Per Serving:
Calories:

359
Total Fat:

17g
Saturated Fat:

10g
Trans Fat:

1g
Unsaturated Fat:

5g
Cholesterol:

71mg
Sodium:

253mg
Carbohydrates:

50g
Fiber:

1g
Sugar:

36g
Protein:

4g
Nutrition information is an estimate only.
If you'd like to check out another easy dessert for a crowd, I recommend my Orange Cheesecake Bars. If you'd like the small-batch version of this dessert, check out my Banana Cake for Two.
Storage
Due to the dairy in the frosting, I choose to store this cake in the fridge. It will last 2-3 days in the fridge. I recommend allowing the cake to sit at room temperature for 1-2 hours before eating as it will help the cake warm up. I personally find that being cold can make cake seem dry. Banana cake can be frozen, with or without frosting, for 2-3 months. Make sure the container the cake is in is tightly sealed.
What if I Don't Have Overripe Banananas?
Overripe bananas are key for good banana bread or banana cake. The less ripe bananas are, the more bitter they are. As bananas ripen, starches begin to convert to sugars. This is why overripe bananas are so important, as they are much sweeter and have a stronger banana flavor.
To quickly ripen your bananas:
Preheat your oven to 300 degrees Fahrenheit.
Place your bananas, still in their peels, on a baking sheet (be sure to use a silicone baking mat or parchment paper).
Bake for 25-30 minutes, flipping the bananas over about halfway through. The peel should turn completely brown.
Let the bananas cool. Once cool, remove the peels and mash the bananas for your recipe. Be sure to allow the bananas to cool to room temperature before using in your recipe
If you're looking for a visual of this process, you can check out this video on YouTube.
If you made this recipe, I'd love to hear about it! Please leave a review or a comment letting me know how things turned out. Happy baking!