These muffins are quick, easy, and absolutely delicious. While carrot cake is wonderful, these muffins give you a taste of carrot cake without all the effort of making a cake. The addition of coconut adds extra flavor and texture to the muffins. Enjoy!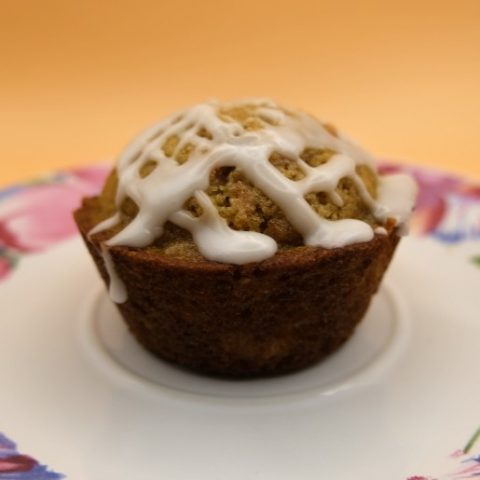 Carrot Cake Muffins
Additional Time:
30 minutes
Total Time:
1 hour
25 minutes
These muffins are reminiscent of a slice of carrot cake. They go well with breakfast or as a sweet treat any time of day.
Ingredients
1 1/2 cups all-purpose flour
3/4 cup packed light brown sugar
1/2 teaspoon baking soda
1/2 teaspoon cinnamon 
1/8 teaspoon nutmeg
1/4 teaspoon salt
2 large eggs
1/2 cup butter, melted
1 cup grated carrots (about 1 large carrot)
1/2 cup shredded coconut
1 teaspoon vanilla extract
1/4 cup + 3 tablespoon buttermilk
1 cup powdered sugar
Instructions
Preheat your oven350° F. Grease a regular 12 muffin tin.
Whisk together the flour, brown sugar, baking soda, cinnamon, nutmeg, coconut, and salt in a medium bowl.
Whisk the eggs in a large bowl. Add the melted butter, grated carrots, vanilla, and 1/4 cup plus 2 tablespoons of buttermilk. Whisk until well combined.
Add the flour mixture to the egg mixture and gently fold to combine.
Evenly divide the mixture in the muffin tine (I like to use a cookie scoop). Bake for 12-16 minutes or until a toothpick inserted in the center comes out clean.
Let cool for 3 minutes, then carefully remove muffins from the tin and place them on a wire rack to finish cooling.
Combine the powdered sugar with the remaining 1 tablespoon buttermilk (you can add more if needed, to get to drizzling consistency). Drizzle the powdered sugar mixture over the top of the cooled muffins.
Notes
While my original recipe doesn't call for nuts, you can add 1/2 cup chopped, toasted pecans to your muffins if you'd like.
Nutrition Information:
Yield:

12
Serving Size:

1
Amount Per Serving:
Calories:

238
Total Fat:

10g
Saturated Fat:

6g
Trans Fat:

0g
Unsaturated Fat:

3g
Cholesterol:

51mg
Sodium:

197mg
Carbohydrates:

35g
Fiber:

1g
Sugar:

22g
Protein:

3g
Nutrition information is an estimate only.
Storage
These muffins will maintain their quality for 2-3 days in an airtight container at room temperature. Frozen muffins in an air-tight container will keep for 2-3 months. To thaw, remove from the freezer, wrap in a paper towel a microwave for 15-30 seconds or until warmed through. I would recommend adding the glaze after thawing to keep the glaze from soaking into the muffin.
What to Do if Your Muffins Don't Rise
Unfortunately, even with the best of recipes, you can end up with muffins that are flat or sunken. Here are some common reasons your muffins aren't rising properly.
Inactive Leavening
Baking soda and baking powder are the main leavening (rising) agents in muffins (for more info on how baking powder and baking soda work, check out this article). However, baking soda and baking powder can become ineffective. If the baking powder and baking soda are ineffective, you can end up with muffins that just don't rise.
One major cause of inactive leavening is when baking powder or baking soda absorbs moisture from the air. To prevent this, store your baking powder and baking soda in an air-tight container in a cool dry place. Avoid storing them in the fridge as your fridge can actually be quite humid.
Another cause of inactive leavening is age. Once opened, baking powder and baking soda (stored properly) can maintain the best quality for 6 months to a year. If unopened, they can last up to 18 months. So if you have baking powder or baking soda that's been sitting in your cupboard for years and your muffins aren't rising right, it may be time to toss it.
Too Much or Too Little Leavening
If you don't have enough leavening agents compared to the other ingredients, your muffins won't rise enough and you'll have flat, dense muffins. Typically you need about 1 teaspoon of leavening per 1 cup of flour. To measure, spoon your baking powder or baking soda into a measuring spoon. Then level it off so it is even with the top of the measuring spoon.
While not enough leavening results in flat, dense muffins, too much is also a problem. If you have too much baking powder or baking soda this can cause them to rise too quickly. Because they rise so quickly the flour doesn't have enough structure to hold all the air bubbles. This results in muffins that seem to rise well but then fall and sink in the middle.
Underbaking
If a muffin is underbaked, the cell structure won't be set enough. The cell structure won't be strong enough to support the air spaces created by the leavening. This results in the air pockets collapsing and the muffin will sink. It may also have a gummy texture due to the amount of liquid remaining in the muffins.
To prevent this, make sure you check the muffins to see if they are done, don't just follow the listed bake time in the recipe. To check doneness, stick a wooden toothpick into the center of one muffin before pulling the pan from the oven. If it comes out clean or with a few moist crumbs clinging to the toothpick then the muffin is done.
Your Oven is Too Hot (or Too Cold)
If your oven is too hot, the muffins may not have enough time to rise before the structure around the air cells sets. You can end up with underrisen muffins, or you may have muffins that are almost burnt on the outside but raw in the middle.
However, baking at too low of a temperature can also prevent your muffins from rising properly. In addition, if you open the oven door too much the heat escapes and can cause your muffins to sink. Check your muffins through the oven door to see if they look done before you open up the oven.
To make sure your oven is actually at the correct temperature, use an oven thermometer. While you may set your oven to the correct temperature, the inside of your oven may be hotter or colder. An oven thermometer will help you get your oven to the right temperature.
Overfilled Muffin Tins
Overfilled muffin tins are a very common issue. If you put in too much muffin batter, it will likely spill over the edges and sink in the middle. The muffins try to rise but because the muffin tin isn't deep enough for the amount of batter, the muffin cannot hold the height. This results in it spreading outward and falling in the middle. When filling your muffin tin, you will want to fill it about 3/4 full.
If you made this recipe, I'd love to hear about it! Please leave a review or a comment letting me know how things turned out. Happy baking!