While dandelions are a common weed, they are actually edible. They are also quite tasty! The flowers have a delicate floral taste, once sweetened the flavor is similar to honey. If you've been wanting to try a dandelion dessert, here is a great place to start!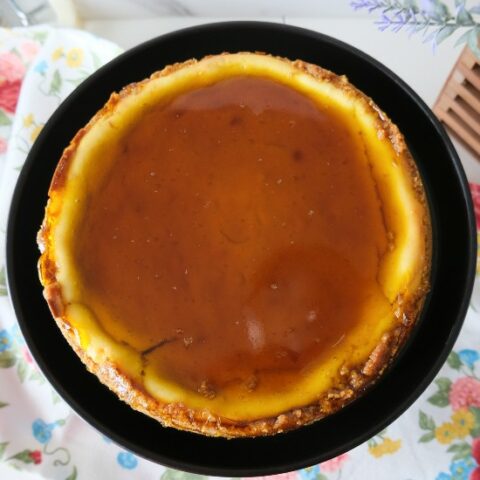 Dandelion Cheesecake
Total Time:
9 hours
30 minutes
Creamy cheesecake in a buttery graham cracker crust topped with a sweet, floral tasting dandelion gelee. Unique, delicious, and sure to delight!
Ingredients
Dandelion Gelee
3 cups fresh dandelion flowers
1/3 cup white sugar
3 tablespoons brown sugar
5 grams unflavored gelatin
Cheesecake Crust
1 1/2 cups graham cracker crumbs (about 8 graham crackers)
3 tablespoons brown sugar
7 tablespoons melted butter
Cheesecake Filling
16 oz cream cheese
3/4 cup white sugar
1/3 cup sour cream
1 teaspoon vanilla
pinch salt
2 large eggs, beaten
2 teaspoons flour
Instructions
In a small saucepan boil the dandelion flowers with 1 cup of water. Once the water comes to a boil, turn down and simmer for 5 minutes. Then remove from heat and set in the fridge while you make the cheesecake.
Preheat the oven to 325°F. Mix the 1 1/2 cups graham cracker crumbs, 3 tablespoons brown sugar and 7 tablespoons melted butter. Press into the bottom and about 2 inches up the sides of an ungreased 8" springform pan.
Beat room temperature cream cheese until smooth and creamy. Add sugar and beat until well mixed, being careful not to overbeat. Mix in the sour cream, vanilla, and salt. Make sure to scrape the sides so everything gets mixed in.
On low speed, add in the eggs and mix just until combined. Add the flour and gently stir in by hand until fully combined. Pour into the graham cracker crust. Place the pan on a baking sheet and place in the center of the oven.
Bake for 45 to 55 minutes. The edges should be slightly puffed and just starting to become golden brown. The center should spring back to a gentle touch but still seem a little jiggly (like Jell-O). Do not overbake.
Once bake, remove the cheesecake from the oven and allow to cool for 10 minutes. Use a knife to gently loosen the crust from the edges so it doesn't stick and crack as the cheesecake cools.
Allow to cool for 2 hours.
Once the cheesecake has cooled, strain the dandelion flowers out of the water. Measure the dandelion water and add a little more water to make sure there is a full 1 cup. Take 1/2 cup of the cold dandelion water and whisk in the gelatin. Let sit for 5 minutes while you heat up the remaining 1/2 cup of dandelion water. Add the 1/3 cup white sugar and 3 tablespoons brown sugar to the hot water. Heat just until the sugar is dissolved. Whisk into the gelatin mixture and stir until all of the gelatin has dissolved. Let cool to room temperature.
Place a plate or baking sheet underneath. With the cheesecake in the fridge, pour the gelatin mixture into the center of it (there should be a slight depression in the middle) try not to add so much that it will run over the edges.
Let cool at least 4 hours or overnight.
Notes
Make sure to only use the dandelion flowers and remove any of the green parts, otherwise they will be bitter.
Nutrition Information:
Yield:

8
Serving Size:

1
Amount Per Serving:
Calories:

557
Total Fat:

34g
Saturated Fat:

19g
Trans Fat:

1g
Unsaturated Fat:

11g
Cholesterol:

136mg
Sodium:

372mg
Carbohydrates:

57g
Fiber:

1g
Sugar:

47g
Protein:

7g
Nutrition information is an estimate only.
This recipe is also delicious topped with homemade whipped cream. If you're looking for more delicious cheesecake recipes I recommend my Easy Orange Cheesecake Bars or Mini Pumpkin Cheesecakes.
How To Store
Dandelion cheesecake should be stored in the fridge. It can be stored for 3 to 4 days. I recommend using an airtight container.
This cheesecake (without the topping) can be frozen whole for up to a month. Freeze in an airtight container. However, the topping will not thaw well and I don't recommend freezing it.
Dandelion flowers can be frozen for up to 6 months.
How to Harvest Dandelions
Make sure to collect dandelions from a clean, low-traffic area. This may be in your garden, a meadow or the countryside. Avoid areas near roadsides, high-traffic areas of parks or meadows, near commercial farms or industrial areas. These areas have been spoiled by pollution, herbicides, human feet, animals etc.
You'll also want to avoid using dandelions from your yard or garden if you use herbicides.
Once you've found somewhere to harvest from, pick them by the stem and allow them to hang upside down for several hours. Then rinse them thoroughly with water. This will help get rid of any insects that may be living in the flowers.
There are two options to harvest the flowers. You can either pull the petals out by hand or cut them off. You'll want to limit the amount of greenery you get as this can affect the color and flavor. The greens tend to be bitter.
While this can be a tedious process, I recommend you pinch the tops of the petals and cut off the bottom of the blossom, then remove any large remaining pieces of green.
If you like this mini apple crisp recipe, let me know! Or if you've made the recipe let me know how it went. I'd love to hear from you in the comments. Happy baking!