Peach pie has always been one of my favorite desserts. I have a fall birthday and instead of cake, I have often had a peach pie for my birthday dessert. If you love fresh peaches, this is the pie for you! It starts with a crispy sugar cookie crust all topped with fresh, juicy peaches covered in a sweet, gooey homemade peach filling. It is the perfect late summer dessert. Enjoy!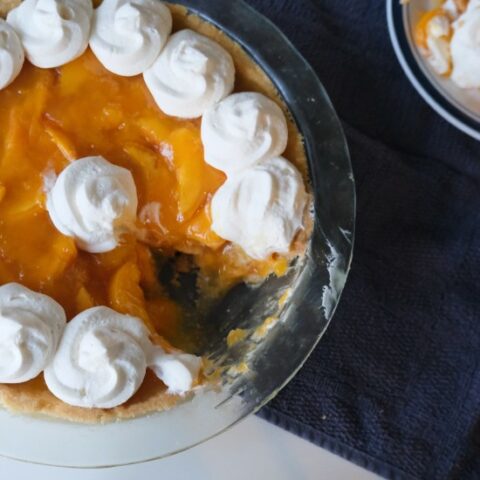 Fresh Peach Pie
Additional Time:
4 hours
3 seconds
Total Time:
5 hours
5 minutes
3 seconds
Fresh peaches are used in this from-scratch peach pie. The peaches are complemented by the crispy sugar cookie crust. The perfect peach dessert!
Ingredients
1/4 cup shortening
1/4 cup butter
2 tablespoons granulated sugar
1 cup + 3 tablespoons all-purpose flour
1 cup mashed peaches (about 2)
2/3 cup water
3/4 to 1 cup sugar
3 tablespoons corn starch mixed with 1/3 cup cold water
6 peaches with skin removed
Instructions
Preheat oven to 350 degrees Fahrenheit.
Melt shortening and butter together. Stir in 2 tablespoons sugar and 1 cup + 3 tablespoons flour. Press evenly into a 9" pie tin. Bake 15 to 20 minutes or until lightly golden brown. Set aside to cool.
While the crust is cooling, boil the 2/3 cups water together with the mashed peaches. Simmer for 2 minutes.
Add sugar and cornstarch mixed with cold water. Cook over medium heat until the mixture is thick, no longer cloudy, and the cornstarch taste is gone.
Thinly slice the peaches into the cooled crust. Pour the cooked peach mixture over the top.
Chill for 3 to 4 hours, then serve. Top with whipped cream. I recommend my Homemade Whipped Cream.
Notes
If you are using large peaches, you may not need as many as this recipe calls for. The number of peaches called for in this recipe is for small to medium peaches.
You can use peaches that you have frozen; just make sure to thaw them and drain off the juice first. I don't recommend store-bought frozen peaches, however, as they tend to be a bit tart with some underripe and hard slices.
Nutrition Information:
Yield:

6
Serving Size:

1
Amount Per Serving:
Calories:

365
Total Fat:

17g
Saturated Fat:

8g
Trans Fat:

0g
Unsaturated Fat:

7g
Cholesterol:

25mg
Sodium:

63mg
Carbohydrates:

55g
Fiber:

3g
Sugar:

46g
Protein:

2g
Nutrition information is an estimate only.
If you want to turn this pie into amazing ice cream, I recommend you check out this recipe.
Storage
This peach pie should be stored in the refrigerator. It is good for 2-3 days in the fridge. I typically serve this pie chilled as the pie becomes a bit runny at room temperature. You can freeze this peach pie for 3-4 months. Before serving, remove from the freezer and let thaw overnight in the fridge.
How to Tell if Peaches are Ripe
You can use touch, scent, and sight to decide whether your peach is ripe.
Touch: Gently, yet firmly, squeeze the peach with your fingers (make sure not to bruise it). The peach should feel soft and "give" slightly. If the peach feels hard, then it is still underripe.
Scent: Your peach should smell slightly sweet. If it has no scent that indicates it may not yet be ripe.
Sight: The main color of a ripe peach should be a dark yellow color. If there is any green on the peach, then it is not yet ripe. Don't rely on the reddish/orange highlight, as an unripe peach can still have a red/orange hue, so look for the dark yellow color without a hint of green.
How to Ripen Peaches Faster
If you are waiting on your peaches to ripen, here's something to try in order to help them ripen more quickly. Place them stem-side down in a paper bag. Arrange the peaches so they don't touch. Fold the top of the paper bag down and leave it at room temperature. Check every 24 hours to see if your peaches have ripened yet. Once ripe, remove them from the paper bag and leave at room temperature.
If you made this recipe, I'd love to hear about it! Please leave a review or a comment letting me know how things turned out. Happy baking!