Fresh peaches have always been one of my favorite fruits. I absolutely love baking with peaches and every year I make my Fresh Peach Pie. I love peach pie so much that I decided I wanted to make a peach pie ice cream. Because who doesn't love pie a la mode? I added extra peach flavor with a peach ice cream base, then added sugar cookie pie crust and a sweet swirl of fresh peach sauce. Enjoy!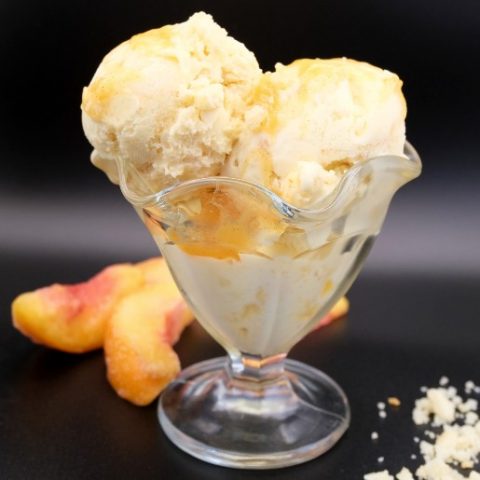 Homemade Peach Pie Ice Cream
Additional Time:
6 hours
30 minutes
Sweet peach ice cream with a swirl of peach pie sauce and the crisp crunch of pie crust that tastes just like a slice of peach pie topped with melted ice cream.
Ingredients
Peach Ice Cream
3 medium peaches peeled, pitted, and chopped (about 2 cups)
1/4 cup granulated sugar
2 cups heavy cream
1 cup milk
3/4 cup granulated sugar
1/4 teaspoon salt
4 egg yolks
1 teaspoon vanilla extract
Pie Crust
1/4 cup shortening
1/4 cup butter 
2 tablespoons granulated sugar
1 cup + 3 tablespoons all-purpose flour
Peach Sauce
2 peaches peeled, pitted and diced (about 1 cup)
1/2 cup water
1 cup granulated sugar
1 teaspoon cinnamon
3 tablespoons cornstarch mixed with 1/3 cup cold water
Instructions
Peach Ice Cream
Place the peaches and 1/4 cup sugar in a blender or food processor. Pulse 3-4 times until peaches are broken into small pieces.
In a medium saucepan, combine the heavy cream, milk and 3/4 cup sugar, and salt. Warm over medium heat for 3 to 4 minutes or until the sugar is dissolved. Make sure to stir frequently.
In a separate bowl, beat the egg yolks until they become smooth and slightly lighter in color.
Take 1/2 cup of the hot milk mixture and slowly pour into the egg yolks. Whisk the mixture constantly while pouring in the milk mixture.
Pour the tempered egg mixture back into the rest of your milk mixture, stirring steadily while adding the eggs. Cook over medium heat for 5 to 8 minutes, stirring frequently (do NOT let the mixture boil). The mixture will start to thicken slightly and should be thick enough to coat the back of a spoon. The mixture should be 175-185 degrees Fahrenheit.
Place a fine strainer over the top of a heat-safe bowl. Pour your custard through the strainer to strain out any cooked egg bits. Then stir in the vanilla and peach mixture.
Place a circle of parchment paper onto the surface of the custard to prevent a skin from forming. Cover and refrigerate until fully cool, at least 4 hours or overnight.
Once chilled, churn according to your ice cream maker's instructions.
Pie Crust
Preheat oven to 350 degrees Fahrenheit. Stir in the 2 tablespoons sugar and 1 cup + 3 tablespoons flour. Mix just until the dough comes together.
Place the pie dough onto a parchment-lined baking sheet. Gently form the dough into a ball and pat until flattened into a disk. Flatten dough to about 1/4" thick. Bake 10-15 minutes or until light golden brown. Let cool
Once the crust has cooled, cut into small (about nickel-sized) pieces and set aside.
Peach Sauce
Place your 2 peaches in a blender or food processor. Pulse 4-5 times or until broken into small pieces.
Combine blended peaches, water, 1 cup sugar, and cinnamon in a medium saucepan. Simmer for 2 minutes. Add the cornstarch mixture slowly, stirring constantly.
Cook over medium heat until the mixture is thick, no longer cloudy, and the cornstarch taste is gone.
Refrigerate until cold, approximately 1-2 hours.

Putting it All Together
Once your ice cream has churned, stir in your crust pieces. Then pour the cold peach sauce over the top and gently swirl it into the ice cream. Be careful not to mix too much, or it will blend too much into the ice cream.
Place the ice cream in the freezer for at least 2 hours. Enjoy!
Notes
The recipe instructions call for you to break up the peaches into small pieces. However, if desired, you can puree the peaches. When I make this ice cream, I choose to puree the peaches because I don't care for frozen fruit pieces in my ice cream.
Because it is homemade, this ice cream melts quickly. If needed, place the ice cream in the freezer while adding the crust and peach swirl to prevent it from melting too much.
While I highly recommend using fresh peaches in this ice cream, you can use frozen peaches or canned peaches if that is what you have available.
Nutrition Information:
Yield:

8
Serving Size:

1
Amount Per Serving:
Calories:

623
Total Fat:

37g
Saturated Fat:

21g
Trans Fat:

1g
Unsaturated Fat:

13g
Cholesterol:

181mg
Sodium:

148mg
Carbohydrates:

71g
Fiber:

2g
Sugar:

65g
Protein:

5g
Nutrition information is an estimate only.
If you're having issues with your ice cream, check out my article on Common Homemade Ice Cream Mistakes and How to Fix Them.
Homemade Ice Cream Storage
Homemade ice cream is best served within a couple of days after making. The longer ice cream is stored, the more crystallized it will become. Store in an airtight container in the freezer with plastic wrap pressed into the top. You can store your homemade ice cream for up to 1 month.
Why Do You Need to Temper Your Eggs?
If you make custard-based ice cream, you will be using egg yolks. The egg yolks are used to thicken the custard base. The fat in the cooked yolks also gives your ice cream its signature creamy, luscious texture.
However, you cannot just added the yolks to the milk mixture while cold and heat them up or add them to the hot milk mixture. This is because this would quickly cook the yolks, leaving you with a custard full of scrambled egg bits.
By slowly mixing the hot milk mixture into the egg yolks you heat them up. Then you can add them to the remaining hot milk mixture without cooking them and curdling the mixture. Then you can slowly cook the mixture at a low temperature (175-185 degrees F) and get the creamy, thick custard you are looking for.
If you made this recipe, I'd love to hear about it! Please leave a review or a comment letting me know how things turned out. Happy baking!