Growing up, it was a tradition in my house for my mom to make hot cross buns on Easter morning. Warm, fluffy buns filled with raisins and topped with sweet glaze are a delicious breakfast. You do need to have some time for the buns to rise, but they are well worth the wait. Enjoy!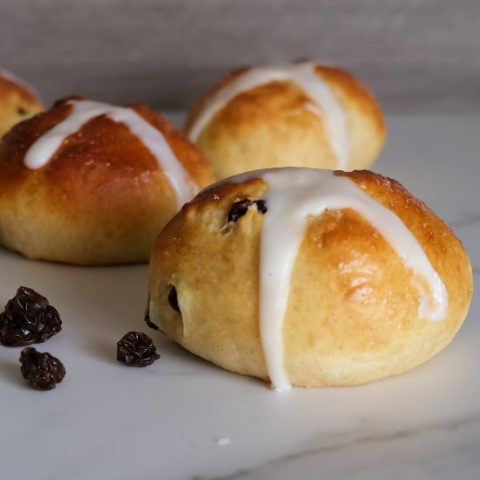 Hot Cross Buns
Additional Time:
2 hours
20 minutes
Total Time:
3 hours
20 minutes
Hot cross buns are soft, fluffy, and full of sweet raisins. With their golden brown exterior and drizzle of white glaze, they are as beautiful as they are delicious.
Ingredients
3 1/2 to 4 cups all-purpose flour
1 1/2 tablespoons dry active yeast
1 teaspoon cinnamon
3/4 cup milk
1/2 cup oil
1/3 cup sugar
3/4 teaspoon salt
3 eggs
2/3 cup raisins
1 egg white
1 1/2 cups powdered sugar
1/4 teaspoon vanilla extract
Pinch salt
1-2 tablespoons milk
Instructions
In a mixer, combine 1 1/2 cups of the flour, the yeast and cinnamon.
In a small saucepan, heat the milk, oil, sugar and 3/4 teaspoons salt until warm (110-115° F), stire constantly.
Add milk mixture to the flour mixture, stir. Add eggs and beat on low speed for 30 seconds.
Scrape the sides of the bowl then beat 3 minutes at high speed.
Stir in raisins and as much of the remaining flour as can be mixed in by hand with a spoon. Turn out the dough onto a lightly floured surface. Knead in as much of the remaining flour as needed to make a moderately soft dough. Knead until smooth and elastic (3-5 minutes).
Shape dough into a ball and place in a lightly greased bowl; turn the dough ball once to grease the surface. Cover and let rise until doubled (about 1 hour).
Lightly punch down the dough, cover and let rest 10 minutes.
Divide dough into 18 pieces; form each piece into a smooth ball. Place on a greased baking sheet about 1 1/2 inches apart. Cover and let rise until nearly double (about 30 minutes.
With a sharp knife, cut a shallow cross in each bun. Lightly beat the egg white and brush the tops of the buns with the egg white.
Bake at 375°F for 12 to 15 minutes. Allow to cool slightly while preparing glaze. For glaze, combine powdered sugar, vanilla, pinch of salt and enough milk to make a thick yet pipeable glaze. Pipe glaze into the cross cut into the buns.
Notes
While this recipe says to mix the buns in an electric mixer, you can mix them by hand. It will just take a bit more time and a bit of elbow grease.
If desired, a bit of orange juice can be substituted for the milk in the glaze in order to add a bit of orange flavor to the buns.
Nutrition Information:
Yield:

18
Serving Size:

1
Amount Per Serving:
Calories:

499
Total Fat:

8g
Saturated Fat:

1g
Trans Fat:

0g
Unsaturated Fat:

7g
Cholesterol:

32mg
Sodium:

119mg
Carbohydrates:

93g
Fiber:

3g
Sugar:

17g
Protein:

12g
Nutrition information is an estimate only.
Storage
Hot cross buns are best served as fresh as possible. They start to get stale quickly after baking. Store in an airtight container at room temperature. If freezing, place in a tightly sealed container. Frozen rolls maintain their quality 2-3 months after freezing. Check out this article on the best way to thaw bread.
You can also freeze the rolls as raw dough and have fresh-baked rolls when you need them. Form the rolls and place them on a large cookie sheet lined with parchment paper. Freeze for 3-4 hours, then transfer frozen rolls to a zip-top freezer bag.
You can store frozen roll dough for 2-4 weeks. To bake, place in your greased 9×13" baking dish and cover. Let rise on the counter for 3-5 hours, then follow the recipe for baking instructions and topping with glaze.
History of Hot Cross Buns
Bread topped with crosses actually pre-dates Christianity. The ancient Egyptians made small, round bread imprinted with a pair of horns that were meant to celebrate their moon goddess. The horns were symbolic of the sacrificial ox.
Greeks and Romans also offered similar sweet rolls to various divinities. The word "bun" is thought to be derived from the Greek word "boun" which was used when referring to these rolls. These rolls were later topped with a cross. This is thought to possibly allude to the 4 phases of the moon or to make the bread easier to break apart and distribute to worshippers.
In reference to Easter, hot cross buns reportedly first appeared in 12th century England. On Good Friday an English monk decorated freshly baked buns with a cross. One of the first definite records of hot cross buns comes from the 16th/17th-century text reading "Good Friday comes this month the old woman runs, with one or two a penny hot cross buns (Smithsonian).
Afterward, they became a custom, and fruit and spices were later added which were thought to represent health and prosperity.
In 1592 Queen Elizabeth I ruled that hot cross buns could not be sold any day except Good Friday, Christmas, or for burials due. To work around this people would bake buns at home rather than buying them. Eventually, the law was too hard to enforce and was rescinded.
Hot cross buns are now a seasonal staple around Easter, though they are delicious any time of year.
If you've made this recipe, let me know how it went! I'd love to hear from you in the comments. Happy baking!