This eggless hot fudge pudding cake is gooey, decadent, chocolatey perfection. You try it once and you'll find yourself wanting to make it again and again. Thankfully, it is also easy to make. I love that it uses ingredients that I typically keep in my pantry. It pairs perfectly with a big pile of whipped cream or a scoop of vanilla ice cream. Enjoy!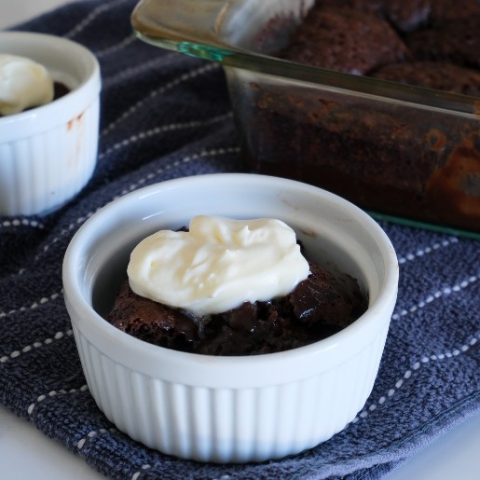 Eggless Hot Fudge Pudding Cake
Additional Time:
10 minutes
Gooey, chocolatey and rich, hot fudge pudding cake will fulfill all of your chocolate dream. Bonus is it is super easy to make and egg-free!
Ingredients
1 cup all-purpose flour
2/3 cup granulated sugar
2 teaspoons baking powder
1/2 teaspoon salt
1 teaspoon cinnamon
1/2 cup natural cocoa powder, divided
1/2 cup milk
2 tablespoons melted butter
1 teaspoon vanilla
1 cup brown sugar
1 1/2 cups boiling water
Instructions
Preheat the oven to 350°F. Grease an 8x8" glass baking dish and set aside
In a medium bowl, combine the flour, sugar, baking powder, salt, cinnamon, and 1/4 cup of cocoa powder. Whisk in the butter, milk, and vanilla just until smooth. The batter will be very thick. Spread the batter into the baking dish.
Mix the brown sugar and remaining 1/4 cup cocoa powder in a small bowl. Sprinkle evenly over the batter.
Carefully pour the 1 1/2 cups of boiling water over the mixture in the baking dish. Do not stir.
Bake for 30 minutes. As it bakes the batter will separate into layers of cake and pudding. Remove from the oven and let cool in the pan for 15 minutes.
Serve warm with ice cream or whipped cream. I recommend using homemade whipped cream.
Notes
This cake can easily be made vegan by using vegan butter and your favorite milk alternative.
Cinnamon gives the cake its unique flavor, however, if you don't like the flavor of cinnamon it can be omitted.
Nutrition Information:
Yield:

6
Serving Size:

1
Amount Per Serving:
Calories:

353
Total Fat:

5g
Saturated Fat:

3g
Trans Fat:

0g
Unsaturated Fat:

1g
Cholesterol:

12mg
Sodium:

390mg
Carbohydrates:

74g
Fiber:

2g
Sugar:

53g
Protein:

4g
Nutrition information is an estimate only.
Storage
Hot fudge pudding cake is best served fresh. However, it should last for 1-2 days in an airtight container at room temperature. In the fridge, it should last 2-3 days. Simply microwave for 20-30 seconds until warm.
I don't recommend freezing hot fudge pudding cake as it won't maintain its quality stored in the freezer.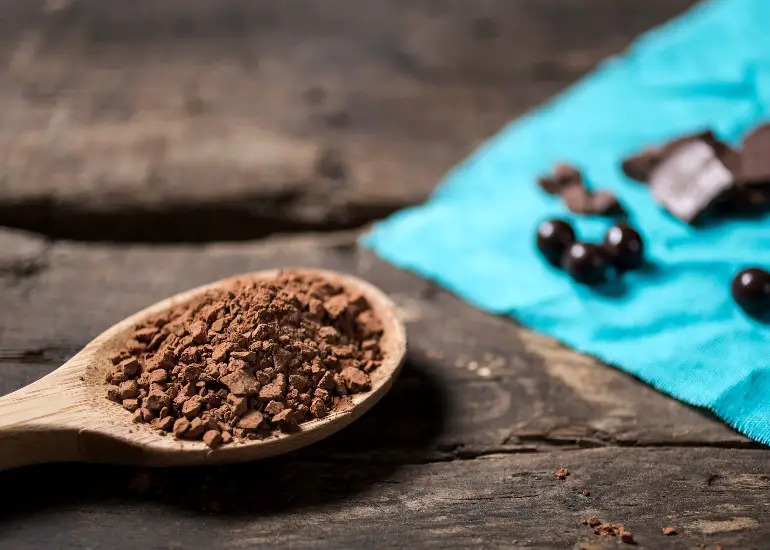 Natural vs. Dutch-process Cocoa Powder
If you're a fan of chocolate desserts, you've probably seen the terms "natural" cocoa powder and "Dutch-processed" cocoa powder. So I set out to learn a bit more about the difference between the two.
All cocoa powder is made from cocoa beans. They are processed into cocoa liquor, then dried and ground into cocoa powder. Check out this article to learn more about how cocoa beans are processed.
Both types of cocoa powder are unsweetened. However, natural cocoa powder is non-alkalized and still contains cocoa's natural acids.
Dutch-process cocoa powder is made from cocoa beans washed in an alkaline bath. This neutralizes the cocoa beans' acidity, leaving the cocoa powder neutral rather than acidic. Natural cocoa tends to be lighter in color but with a stronger flavor.
Can I Substitute Natural Cocoa Powder for Dutch-process Cocoa Powder?
In a recipe that does not use any leavening (rising) agents such as baking powder or baking soda, it doesn't matter what type of cocoa powder you use. If a recipe does use baking powder or baking soda, the acidity (or lack of acidity) in the cocoa powder could affect how your recipe rises.
In general, if a recipe calls for "cocoa powder" you should be fine to use natural cocoa powder. I almost always use natural cocoa powder in my recipes as that is what I keep in my pantry.
If you like this peach pie for one recipe, let me know! Or if you've made the recipe let me know how it went. I'd love to hear from you in the comments. Happy baking!