A local cookie company recently included peanut butter cornflake cookies as one of their weekly flavors. I enjoyed it so much I decided that I had to make them myself at home. They're crunchy, chewy, and super simple. They're great for a summer block party when you need something easy that you don't have to heat up the whole house to make. Enjoy!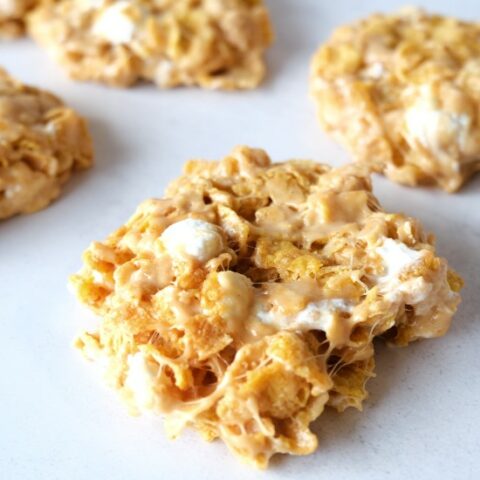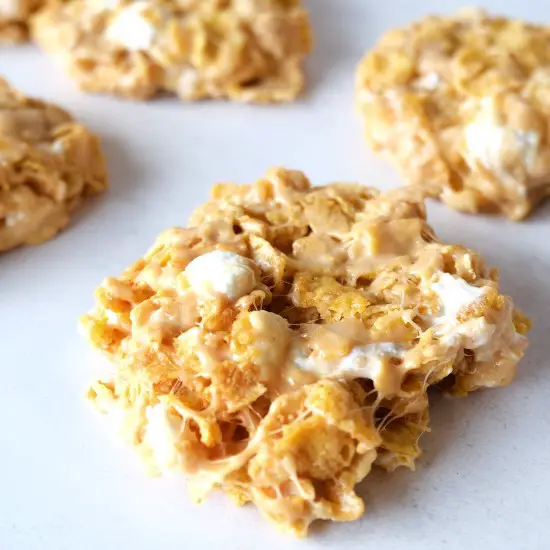 No-Bake Peanut Butter Marshmallow Cornflake Cookies
Additional Time:
30 minutes
Chewy, crunchy cookies with the perfect mix of sweet and salty. With only 6 ingredients, these cookies are quick, easy and delicious.
Ingredients
3 cups mini marshmallows (keep one cup separate)
2 tablespoons butter
1/2 cup corn syrup
1/2 cup granulated sugar
3/4 cup peanut butter
7 cups cornflakes
Instructions
Boil the corn syrup, butter, and sugar over medium heat until the sugar has completely dissolved.
Stir in peanut butter and 2 cups marshmallows. Mix until smooth.
Gently stir in cornflakes and the remaining 1 cup marshmallows.
Scoop out onto a non-stick surface (wax paper, parchment paper, or silicone baking sheets). Use a 1/2 cup measuring cup for large cookies or a 1/3 cup measuring cup for smaller cookies.
Gently press down on the cookies to flatten them slightly.
Let cool for 30 minutes to an hour and serve.
Notes
Depending on your preference, either smooth or crunchy peanut butter can be used.
The ookies don't have to be pressed down if you prefer a more domed appearance. I like to flatten them because I prefer a more cookie-like shape.
Nutrition Information:
Yield:

18
Serving Size:

1
Amount Per Serving:
Calories:

188
Total Fat:

7g
Saturated Fat:

2g
Trans Fat:

0g
Unsaturated Fat:

4g
Cholesterol:

3mg
Sodium:

153mg
Carbohydrates:

31g
Fiber:

1g
Sugar:

19g
Protein:

3g
Nutrition information is an estimate only.
Another super easy recipe I highly recommend is my easy s'more bars, or another no-bake recipe is my easy scotcheroos.
Storage
I recommend storing cornflake cookies in an airtight container at room temperature. They will last for 2-3 days at room temperature. If you need to store them for longer, I would recommend freezing them. Tightly wrap in plastic wrap (once cooled) and store in an airtight container in the freezer for up to 3 months. Then remove from the freezer, unwrap, and let sit for several hours to come to room temperature.
Why Are My Cornflake Cookies Hard?
Ideally, cornflake cookies should be crispy cornflakes in a gooey, chewy peanut butter mixture. If your cookies turn out overly crunchy or hard. This is typically due to overcooking the corn syrup and sugar. Cook over medium heat and cook just until the sugar has dissolved. If the sugar gets overcooked when it cools, it will become hard (similar to hard candy), making the cookies too crunchy and hard.
Because the sugar/corn syrup mixture will have bubbles in it, it's difficult to tell when the sugar has dissolved by sight alone. I keep ice water nearby while cooking, drop a tiny bit of corn syrup mixture in it, and feel it (once cooled) to make sure the sugar has dissolved and is no longer gritty.
If you like this peach pie for one recipe, let me know! Or if you've made the recipe let me know how it went. I'd love to hear from you in the comments. Happy baking!