This Orange White Chocolate Cranberry No-Knead bread is simple and easy with only 7 ingredients. It doesn't require a lot of hands-on time, but the result is incredible. With the perfect mix of tangy and sweet and a thick, chewy crust, you will wish you had more than one loaf. Enjoy!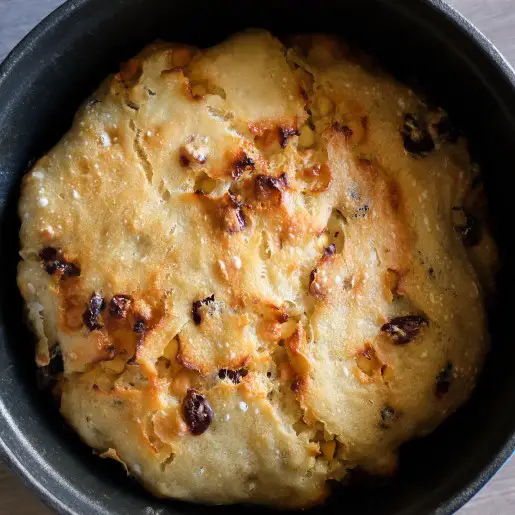 Orange White Chocolate Cranberry No-Knead Bread
Additional Time:
13 hours
Total Time:
14 hours
5 minutes
Easy and delicious with a crisp, chewy crust and soft, moist inside. The tang of cranberry pairs well with the sweet white chocolate and hint of citrus.
Ingredients
3 cups all-purpose flour
1/4 teaspoon yeast
1 1/2 teaspoons salt
1 3/4 cup water
1 tablespoon orange zest (zest from 1 orange)
1 cup dried cranberries
1 cup white chocolate chips
Instructions
In a large bowl, mix the flour, yeast, salt, water, and orange zest. Tightly cover with plastic wrap and let sit for 10-12 hours or overnight.
Next, add the white chocolate and craisins and mix them in thoroughly. The dough will be quite sticky and soft. Then cover again and let sit another 1 hour.
While the dough is sitting, press a piece of parchment paper into the shape of your baking dish. You can use a 2.5-3 quart dutch oven or casserole dish as long as it is oven safe and has a lid. Remove the parchment paper and set it aside to use later.
After the dough has rested 40 minutes, place your container (with the lid on) into the oven. Set to 425 degrees Fahrenheit. Let warm for the final 20 minutes of rising time.
Carefully remove your baking dish from the oven. Put the parchment paper into the baking dish (be careful not to burn yourself), then place the dough into the baking dish.
Cover with the lid and bake for 30 minutes. Uncover and bake for another 10 to 15 minutes to allow the top of the bread to brown.
Once your bread is done, remove it from the container and allow it to cool.
Notes
I highly recommend using a Microplane to zest your orange. Avoid zesting any of the white pith as it is quite bitter.
This bread is still good if made without orange zest. You could also use dark chocolate chunks instead of white chocolate for a different flavor profile. I have also made this bread with dried blueberries instead of dried cranberries.
Nutrition Information:
Yield:

12
Serving Size:

1
Amount Per Serving:
Calories:

231
Total Fat:

5g
Saturated Fat:

3g
Trans Fat:

0g
Unsaturated Fat:

2g
Cholesterol:

3mg
Sodium:

280mg
Carbohydrates:

43g
Fiber:

2g
Sugar:

18g
Protein:

4g
Nutrition information is an estimate only.
Storage
Because this is artisan bread, it is best served within 1 to 2 days of baking; the fresher, the better. It tends to dry out if not eaten soon after baking. Store in an airtight container at room temperature. If freezing, wrap in plastic wrap, then place in a tightly sealed container. Artisan bread maintains quality 2-3 months after freezing. Check out this article on the best way to thaw bread.
How is No-Knead Bread is Different from Regular Kneaded Bread?
No-knead bread has a thick, crispy, chewy crust with a soft, moist inside and large air pockets. Regular bread has a thinner, softer crust and the air pockets are smaller and more regular. Both are absolutely delicious in their own way, but no-knead bread requires less hands-on work than regular kneaded bread does.
Both types of bread require the development of the protein gluten to get their structure and texture. Gluten is actually composed of two proteins (glutenin and gliadin). To develop gluten, these two proteins need to meet up in various ways to form connections. This creates a structure that holds onto the gasses made by yeast as it ferments. This is what gives bread its signature texture.
Gluten Development in Kneaded Bread
Kneaded bread develops gluten through movement (kneading), which helps the glutenin and gliadin make the necessary connections. No-knead bread has more yeast and contains sugar which helps the yeast ferment more quickly, and the bread rises faster than no-knead bread.
Gluten Development in No-Knead Bread
The no-knead dough does not require movement for gluten development because no-knead bread has a very wet dough, much wetter than regular bread. Because of this, the glutenin and gliadin essentially float around in the dough and make the necessary connections to develop the gluten. No-knead bread has less yeast and a very long fermentation time when rising. No-knead dough develops large air holes because of the wet dough, slow fermentation, and lack of kneading (which provides consistent gluten development). No-knead bread's signature chewy crust comes from how it is baked (at a high temperature in a heated dutch oven or casserole dish.
If you made this recipe, I'd love to hear about it! Please leave a review or a comment letting me know how things turned out. Happy baking!