I love pumpkin pie, and recently, I wanted to see if it was worth it to make it completely from scratch. So I did a taste test comparing different pumpkin pies, and honestly? The pumpkin pie from scratch was by far the best pie (see the video for the full breakdown). So if you are looking for a delicious pumpkin pie, look no further!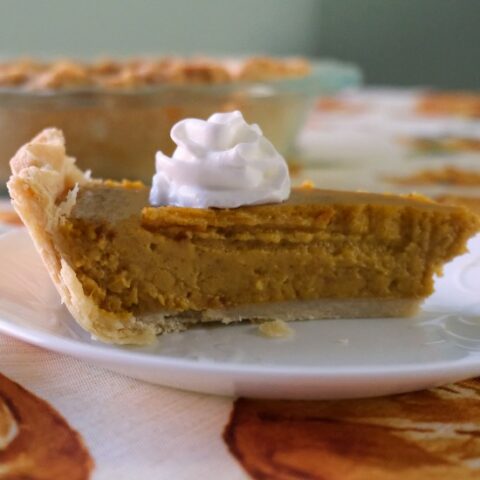 Pumpkin Pie From Scratch
Cook Time:
1 hour
40 minutes
Additional Time:
3 hours
30 minutes
Total Time:
6 hours
10 minutes
Pie pumpkins are used to create a smooth, sweet filling with a lovely mellow pumpkin flavor. The homemade pie crust is crispy and flaky. Top with whipped cream for the perfect bite!
Ingredients
Filling
2 small pie pumpkins
1 (12 oz) can evaporated milk
3/4 cup granulated sugar
1/2 teaspoon salt
1 1/2 teaspoons pumpkin pie spice
2 large eggs
Crust
2/3 cup butter-flavored shortening
1/2 teaspoon salt
1 3/4 cups flour
2-4 tablespoons cold water
Instructions
For the filling, preheat oven to 350°F. Cut pumpkins in half and use a sharp spoon or ice cream scoop to scrape out all the seeds and strings. Lay cut side down on a baking sheet and bake for 45 to 50 minutes. A fork should be able to pierce the skin easily.
Remove from the oven and allow to cool. Once cool, scrape all of the pulp out of the shells. Take 2 cups of pumpkin and puree it with the evaporated milk.
Whisk the granulated sugar, salt, pumpkin pie spice, and eggs in the pumpkin mixture. Set aside.
Preheat oven to 425°F.
For the crust, use a fork to combine the 2/3 cup shorting, 1/2 teaspoon salt, and 1 3/4 cup flour. Cut together until you have pea-sized particles. Slowly mix in the water 1 tablespoon at a time. Add just enough water for the mixture to form a ball. Be careful not to overmix. Shape into a small disc, wrap in plastic wrap and refrigerate for 20 minutes.
Roll out 1/8" thick and place into a 9" baking dish. Cut off any extra crust and crimp the edges. Refrigerate for another 10 minutes.
Pour the filling into the crust and bake for 15 minutes. Then decrease the temperature to 350°F and bake for another 40 minutes. You'll know your pie is done when you put a knife in the center of it, and it comes out clean. It also shouldn't have any significant jiggle if you gently shake it.
Cool and serve.
Notes
If you don't have evaporated milk available, heavy cream can be used instead. You can also use whole milk, just add 3 tablespoons of cornstarch if you are using milk.
For a dairy-free pumpkin pie, use 1 1/2 cups of plant-based milk (such as almond, soy, or oat) mixed with 3 tablespoons of cornstarch instead of the evaporated milk.
Nutrition Information:
Yield:

10
Serving Size:

1
Amount Per Serving:
Calories:

342
Total Fat:

18g
Saturated Fat:

9g
Trans Fat:

1g
Unsaturated Fat:

7g
Cholesterol:

78mg
Sodium:

391mg
Carbohydrates:

42g
Fiber:

1g
Sugar:

20g
Protein:

5g
Nutrition information is an estimate only.
I highly recommend serving this pumpkin pie alongside some homemade whipped cream.
Storage
Pumpkin pie should be stored covered in the fridge. You can cover your pie with plastic wrap or aluminum foil. Pumpkin pie should last for up to 1 week in the fridge.
Pumpkin pie can be frozen, though make sure the dish you are freezing it in is freezer-safe. To freeze pumpkin pie, allow it to cool fully, then place it in the freezer. Once frozen, wrap tightly in cling wrap and place in an airtight container or zip-top bag, if possible. Freeze for up to one month.
To thaw frozen pumpkin pie, place it in the refrigerator overnight until fully thawed.
If you like this mini apple crisp recipe, let me know! Or if you've made the recipe let me know how it went. I'd love to hear from you in the comments. Happy baking!