For as long as I can remember, there has been a big rhubarb plant in the corner of my mom's garden. Now, rhubarb is kind of a weird plant. It's tart, and crunchy, and is it a fruit? Is it a vegetable? (hint, it is technically a vegetable). And now that I have a rhubarb plant of my own, I have to wonder, "what am I supposed to do with this thing?" As a kid, I would dip it in sugar and eat it, but that just doesn't cut it as an adult. So I have been coming up with ways I can enjoy this delicious plant. This is just one of those recipes (and I am hoping there will be lots more to come). Enjoy!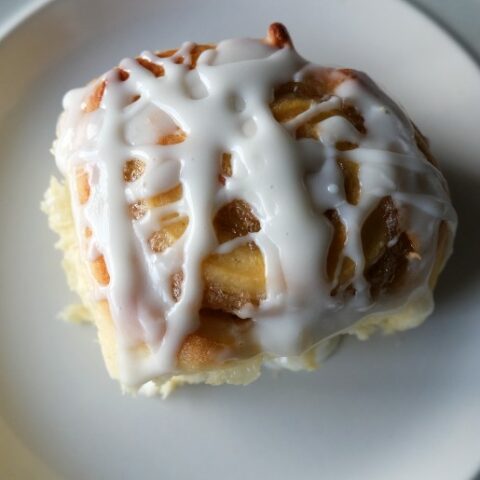 Rhubarb Sweet Roll Recipe
Total Time:
5 hours
10 minutes
Soft, tender rolls with gooey sweet and tart rhubarb filling.
Ingredients
Roll Dough
3/4 cup warm buttermilk
6 tablespoons melted butter
3 large eggs
4 1/4 cups all-purpose flour
1/4 cup granulated sugar
2 1/4 teaspoons yeast
1 1/4 teaspoons salt
Rhubarb Jam Filling
2 cups chopped rhubarb
3/4 cup granulated sugar
1 cup water
3 tablespoons butter, softened
Sour Cream Glaze
1/4 cup sour cream
2 to 3 tablespoons milk
1 3/4 cup powdered sugar
Instructions
In a small bowl, whisk the buttermilk, and 6 tablespoons of melted butter together. Set aside.
Use a mixer with a dough hook to combine 4 cups of the flour with your 1/4 cup of sugar, yeast, and salt. Mix on low speed and slowly pour in the buttermilk mixture. Next, add in the eggs while still mixing.
Mix until the dough comes together. Then increase the speed to medium and knead until smooth and elastic, about 10 minutes. The dough should be quite soft and moist but not overly sticky. Add flour if needed.
Place in a large greased bowl, cover, and allow to rise until doubled (2 to 2 1/2 hours).
Meanwhile, make your filling. Mix the chopped rhubarb, 3/4 cup sugar, and 1 cup water in a medium saucepan. Bring to a simmer and cook for 10 to 15 minutes, stirring occasionally. The filling will be quite thick and jam-like in texture. If it is too runny, it will all run out of the rolls while baking. Allow to cool.
Once your dough has risen, roll out the dough on a floured surface. Roll it into a 12x20" rectangle. Then brush with 3 tablespoons of softened butter (don't put butter on the top ~1/2 inch of dough. Then spread your rhubarb filling evenly over the butter (avoiding the top 1/2" again).
Starting at the bottom of your rectangle, roll up into a long roll and gently pinch/press the last bit of dough into the roll to help seal it. Gently cut the roll into 12 individual rolls and place them evenly into a greased 9x13" pan. Gently cover with plastic wrap and let rise another 1 to 1 1/2 hours.
Preheat the oven to 350° F. Bake the rolls for 22 to 27 minutes until golden brown. Be careful not to underbake or you will have mushy centers. Place on a cooling rack to cool.
While the rolls are cooling, make the glaze. Beat together the sour cream and powdered sugar. Then add enough milk to make a glaze. The glaze should slowly pour off of a spoon.
Drizzle the glaze over the top of your rolls and serve. I like to add the glaze when the rolls are still a little warm so I can serve the rolls warm.
Notes
These rolls can be made in one day, but they are also nice to make ahead so you can have them first thing in the morning. For that, make the recipe and do the first rise, fill and shape the rolls, then lightly cover with plastic wrap and place in the fridge for 12 hours. Then when you are ready to bake them, pull the rolls out while you preheat the oven. Then bake per the recipe.
Nutrition Information:
Yield:

12
Serving Size:

1
Amount Per Serving:
Calories:

406
Total Fat:

12g
Saturated Fat:

7g
Trans Fat:

0g
Unsaturated Fat:

4g
Cholesterol:

73mg
Sodium:

342mg
Carbohydrates:

69g
Fiber:

2g
Sugar:

34g
Protein:

7g
Nutrition information is an estimate only.
For another sweet breakfast treat, try my buttons and bowknots or butterscotch pecan pull-apart bread.
How Long Do Rhubarb Sweet Rolls Last?
Like lots of breads, rhubarb sweet rolls are best when eaten fresh. However, they should last 2-3 days before starting to get stale. I store my rhubarb sweet rolls at room temperature in an airtight container.
Do You Need to Peel Rhubarb?
So the short answer here is…maybe?
Rhubarb is a perennial plant (meaning it will come back each year), but its peak season is spring to early summer. If you harvest your rhubarb in peak season, it should have soft enough skin to not need peeling. But as it ages into mid-to-late-summer, it gets tougher and may need to be peeled.
As a rule of thumb, I have found that if I can grab the skin of the rhubarb and peel it off, it is probably tough enough to need peeling. However, if you can't get ahold of it or it doesn't peel off in a thin strip, it should be soft enough to require peeling.
However, tough rhubarb skin in the dessert you've spent all this time making is a big bummer. So if I'm unsure if I should peel it or not, I usually peel it.
If you like this single serve brownie recipe, let me know! Or if you've made the recipe let me know how it went. I'd love to hear from you in the comments. Happy baking!