A friend introduced me to this recipe, and it was love at first bite! If you love coconut, you will absolutely want to add this easy coconut bread recipe to your recipe book. Syrup poured over the top keeps it moist and lends additional sweet coconut flavor. This simple recipe is a wonderful addition to any brunch or for a sweet snack. Enjoy!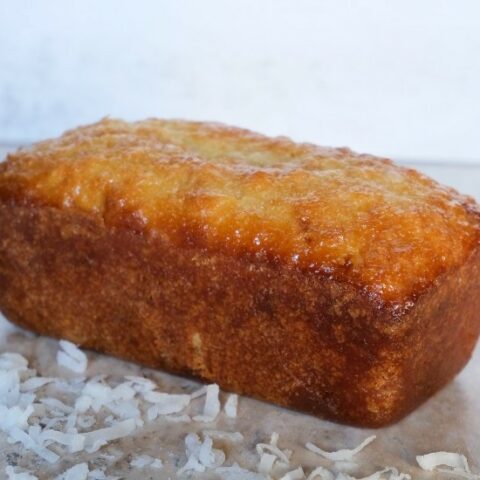 Best Ever Coconut Bread
This bread is sweet, moist and full of coconut flavor. Serve for a delightful brunch or as a sweet snack. If you love coconut, this is the recipe for you!
Ingredients
Bread
4 large eggs
2 cups granulated sugar
1 cup vegetable oil
1 cup buttermilk 
2 teaspoons coconut extract
1 cup shredded coconut
3/4 teaspoon baking powder
3 cups all-purpose flour
1/2 teaspoon baking soda
1/2 teaspoon salt
Syrup
1 cup granulated sugar
1/2 cup water
2 tablespoons butter
2 teaspoons coconut extract
Instructions
Preheat oven to 350 degrees Fahrenheit. Grease and flour 5 mini loaf pans.
In a medium bowl, mix together 2 cups sugar, coconut, baking powder, flour, baking soda and salt. In a large bowl, beat together eggs, sugar, oil and coconut extract. Gently mix in buttermilk, alternating with dry ingredients until all of the buttermilk and the dry ingredient mixture have been added. Be careful not to overmix.
Evenly distribute batter into the 5 greased and floured mini loaf pans. Pans should be fill around 1 inch from the top. Bake for 30-45 minutes or until a toothpick inserted in the center comes out clean.
When bread has almost finished baking, make the syrup. Combine 1 cup sugar with water, butter and coconut flavoring. Boil for 5 minutes.
Once bread has been removed from the oven leave bread in pans and while the bread is still hot, poke holes in the top of loaves (see note). Pour syrup evenly over each loaf. Start with 1/3 cup syrup over each loaf then evenly pour the remaining syrup over the loaves.
Let stand for 4 hours before slicing and serving.
Notes
Skewers work very well for poking holes into your bread. Make sure to poke enough holes for the syrup to soak in evenly. Also make sure that you poke your holes deep enough for the syrup to soak down to the bottom of the bread.
Nutrition Information:
Yield:

20
Serving Size:

2 slices
Amount Per Serving:
Calories:

331
Total Fat:

15g
Saturated Fat:

3g
Trans Fat:

0g
Unsaturated Fat:

11g
Cholesterol:

41mg
Sodium:

163mg
Carbohydrates:

47g
Fiber:

1g
Sugar:

32g
Protein:

4g
Nutrition information is a rough estimate but may not be accurate.
If you're looking for another easy quick bread recipe, I recommend my Buttons and Bowknots recipe.
Buttermilk Substitute
I frequently make recipes that call for buttermilk. However, I rarely choose to purchase buttermilk. My go-to buttermilk substitute combines regular milk, typically 1% or 2% milk, with vinegar or lemon juice. Add your acid of choice (vinegar or lemon juice) in a 1:16 ratio. So if a recipe calls for 1 cup of buttermilk, pour one tablespoon of vinegar or lemon juice into a liquid measuring cup, then fill the line to the one cup mark. Let sit for several minutes, then add to your recipe as usual.
Storage and Shelf Life
In a dry climate in an airtight container, this bread is good for 2-3 days at room temperature. This Coconut Bread is best stored at room temperature rather than in the refrigerator when possible as it becomes stale more quickly in the fridge. This Coconut Bread will last for 3-4 months in the freezer though it is best consumed as fresh as possible.
If you made this recipe, I'd love to hear about it! Please leave a review or a comment letting me know how things turned out. Happy baking!