I actually used to dislike pineapple; however, I fell in love with fresh pineapple after a trip to Costa Rica. I wanted to create an ice cream with that fresh pineapple taste, and I think I achieve it with this fresh pineapple ice cream recipe. Creamy, tangy, and sweet, this ice cream is bursting with pineapple flavor. It's the perfect tropical treat all year round but especially good on a hot summer day. Enjoy!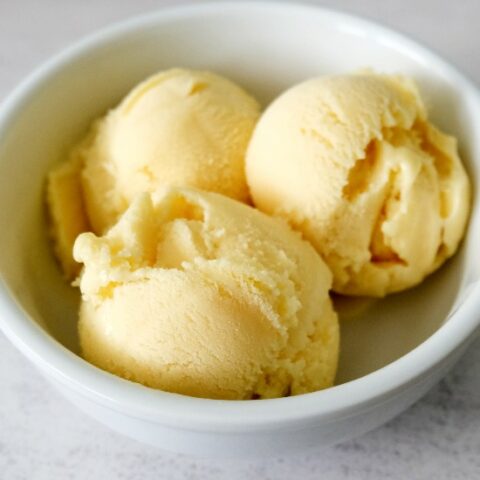 Fresh Pineapple Ice Cream
Total Time:
4 hours
50 minutes
Smooth, sweet ice cream bursting with fresh pineapple flavor!
Ingredients
Pineapple Syrup
1/2 cup granulated sugar
2 tablespoons brown sugar
1 cup pineapple juice
2 1/4 cup chopped pineapple
Ice Cream Base
1 cup granulated sugar
6 egg yolks
1 1/2 cups 2% milk
1 1/2 cups heavy cream
2 tablespoons lemon juice
Ice (if using an ice cream machine that requires ice for freezing)
Ice cream salt (if using an ice cream machine that requires ice for freezing)
Instructions
Puree the pineapple in a blender, then pour through a strainer. Set strained puree aside.
In a medium saucepan, mix the pineapple juice with 1/2 cup granulated sugar and 2 tablespoons of brown sugar. Bring to a boil over medium heat and cook, stirring frequently, until reduced to about 1/2 cup (about 10 to 15 minutes).
Add strained pineapple puree and bring to a simmer. Cook for an additional 5 minutes, then set aside to cool.
For the ice cream base, whisk egg yolks well, then set aside.
Heat milk, heavy cream and sugar until hot but not quite simmering (about 170 degrees Fahrenheit).
Scoop about 1/2 cup of hot milk mixture out, then very slowly pour it into the egg yolks while whisking vigorously.
Slowly return the egg mixture to the pan, whisking constantly. Return to the stove and cook over low heat until the mixture thickens and coats the back of a metal spoon. Be very careful to avoid scrambling the eggs.
Remove from heat and cool the mixture by placing the pan in a bowl of ice water. Then stir in and the pineapple puree mixture.
Once cooled, pour through a strainer to remove any cooked bits of egg. Then cover with plastic wrap and press the plastic wrap against the surface of the mixture to prevent it from forming a skin.
Refrigerate for several hours or overnight
Freeze according to the manufacturer's instructions for your ice cream machine.
Notes
Homemade ice cream is usually done churning when it is at a soft-serve texture. You can serve the ice cream this way or freeze it for an additional 2-4 hours to allow it to firm up.
If you want chunks of pineapple in your ice cream, you can add 1 cup of fresh, diced pineapple. I chose not to do this as I found the ice cream to have plenty of pineapple flavor without it, and I don't care for the texture of chunks of frozen fruit in my ice cream.
Nutrition Information:
Yield:

8
Serving Size:

1
Amount Per Serving:
Calories:

382
Total Fat:

20g
Saturated Fat:

12g
Trans Fat:

1g
Unsaturated Fat:

7g
Cholesterol:

192mg
Sodium:

43mg
Carbohydrates:

47g
Fiber:

1g
Sugar:

44g
Protein:

5g
Nutrition facts are an estimate only and may not be an accurate reflection of nutritional values.
If you're having issues with your ice cream, check out my article on Common Homemade Ice Cream Mistakes and How to Fix Them.
Homemade Ice Cream Shelf Life
Homemade ice cream is best served within a couple of days after making it. The longer ice cream is stored, the more crystallized it will become. Store in an airtight container in the freezer with plastic wrap pressed into the top. You can store your homemade ice cream for up to 1 month.
Why Does Homemade Ice Cream Melt so Fast?
Homemade ice cream melts more quickly than store-bought ice cream. This is for several reasons. Store-bought ice cream contains added stabilizers (such as tapioca flour, carrageenan, or guar gum); homemade ice cream usually only has eggs as a stabilizer. In addition, ice cream with more overrun (more air incorporated into the ice cream during churning) melt more slowly. Homemade ice cream typically has less overrun and melts more quickly.
Combining Pineapple and Milk
While fresh pineapple in creamy ice cream seems like the perfect match, there are some things to consider. Pineapple contains the enzyme bromelain. If you mix fresh pineapple with dairy, it can curdle it and cause it to become bitter and sour. This is why it is important to cook your fresh pineapple to deactivate the bromelain and prevent it from ruining your ice cream.
If you made this recipe, I'd love to hear about it! Please leave a review or a comment letting me know how things turned out. Happy baking!