I am not a big fan of mint, and I have never been. But, my husband is a BIG fan of mint, especially mint and chocolate. The first time I made these brownies, I made them for him. This is one of those recipes that he frequently requests I make because he loves them. They are high up on his list of favorite homemade desserts. I hope you enjoy them!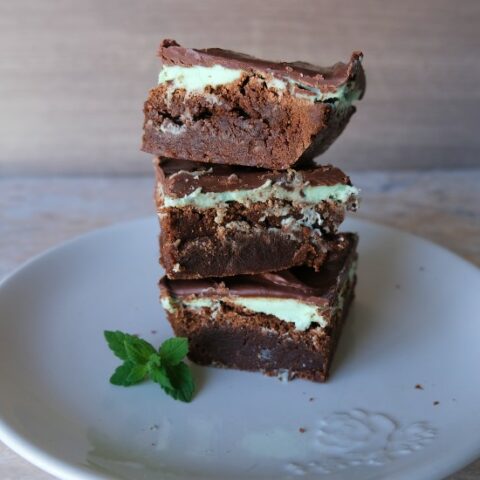 Mint Brownies
Total Time:
2 hours
10 minutes
Rich, fudgy brownies with peppermint frosting reminiscent of a Thin Mint cookie.
Ingredients
Brownies
1 (4oz) package unsweetened chocolate
3/4 cup salted butter
2 cups granulated sugar
3 large eggs
1 teaspoon vanilla
1 cup all-purpose flour
Mint Frosting
5 tablespoons butter, salted softened
2 1/2 cups powdered sugar
2 to 3 tablespoons milk
1 1/4 peppermint extract
3 drops green food coloring (optional)
Chocolate Topping
1 (12 oz) bag of semi-sweet chocolate chips
1 1/2 teaspoons vegetable oil
Instructions
Preheat the oven to 350°F. Either spray a 9x13" pan with non-stick spray or line with foil then spray the foil with non-stick spray. Set aside.
Melt chocolate and butter together in a microwave-safe bowl or in a medium saucepan on the stove. Stir in sugar. Blend in eggs and vanilla. Add flour and mix until fully combined (careful not to over-mix). Pour into the baking pan.
Bake for 25 to 35 minutes or until a toothpick inserted into the center comes out with fudgy crumbs. Allow to cool.
While brownies are cooling, beat the softened butter and powdered sugar together. Add milk and peppermint. Beat until smooth and fluffy. Add food coloring and mix well. Add additional milk if needed to get frosting smooth and spreadable but not runny. Spread onto cooled brownies and chill.
Melt chocolate and vegetable oil together. Gently but quickly, evenly spread chocolate over the mint layer. Allow chocolate to set. Cut and serve.
Notes
You may be tempted to skip the oil with the chocolate, but I highly recommend putting in the oil; it helps keep the chocolate soft enough to bite through even when chilled. If you don't want to use vegetable oil, any neutral flavored oil will do. I have also used coconut oil if you don't mind a hint of coconut flavor.
You can also use a brownie mix instead of making the brownies from scratch.
Nutrition Information:
Yield:

24
Serving Size:

1
Amount Per Serving:
Calories:

230
Total Fat:

10g
Saturated Fat:

6g
Trans Fat:

0g
Unsaturated Fat:

3g
Cholesterol:

45mg
Sodium:

75mg
Carbohydrates:

34g
Fiber:

0g
Sugar:

29g
Protein:

2g
Nutrition information is an estimate only.
If you're looking for more great brownie recipes, check out these unique brownie recipes. If you're having any issues with your brownies, here's a great article on how to make amazing brownies.
Storage
Mint brownies can be stored for 2-3 days in an airtight container at room temperature and up to 5 days in the fridge.
Mint brownies can be frozen and should last for 3 to 4 months in the freezer if stored in an airtight container. They can be frozen as the entire pan or cut into slices. To freeze sliced brownies, freeze them on a sheet tray first (to keep them from freezing together.
Next, wrap the brownies in foil or cling wrap and place them in an airtight container or freezer bag. Put parchment paper between the layers if you need to stack them.
How to thaw them depends on how you froze them. If you froze the entire pan, place it in the refrigerator overnight to thaw. If thawing a single brownie, put it on a plate at room temperature for 1 to 2 hours, then eat.
If you like this single serve brownie recipe, let me know! Or if you've made the recipe let me know how it went. I'd love to hear from you in the comments. Happy baking!