This personal-sized angel food cake is so light and fluffy and the perfect size for one person. You can use it to make a single portion of strawberry shortcake. Or get creative and top with any combination of fruit topping, yogurt, pudding, whipped cream or chocolate syrup. Enjoy!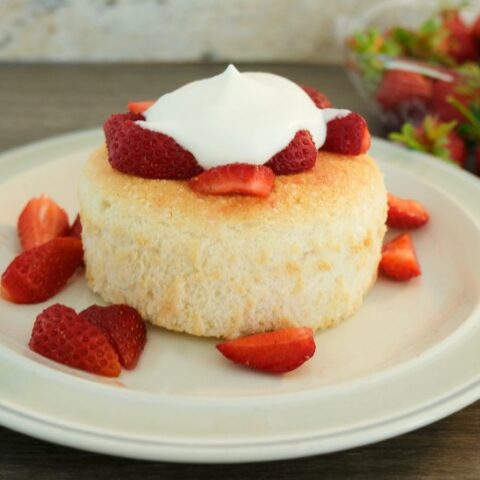 Angel Food Cake For One
Total Time:
1 hour
28 minutes
This personal-size fluffy, delicate angel food cake is delicious plain but even better topped with fruit and whipped cream.
Ingredients
1 1/2 tablespoons all-purpose flour
2 teaspoons powdered sugar *
Pinch salt
1 1/2 tablespoons granulated sugar
1 egg white (room temperature)
1/8 teaspoon cream of tartar
1/8 teaspoon vanilla extract
Instructions
Preheat oven to 350°F.
Sift 1 1/2 tablespoons flour with 2 teaspoons powdered sugar into a small bowl. Stir in the pinch of salt and 1 tablespoon of sugar. Set aside.
Place egg white in another small bowl. Sprinkle with 1/8 teaspoon cream of tartar. Whisk until frothy (I use a hand mixer with one whisk attachment).
Once the egg whites are frothy, slowly add in the remaining 1/2 tablespoon sugar and continue whisking. Beat until the egg white reaches medium peaks.
Sprinkle half of the flour mixture over the egg whites and use a spatula to gently fold in. Once mostly folded in, sprinkle the other half of the flour mixture over the top and fold in just until mixed. Be careful not to mix to vigorously to avoid mixing all the air out.
Gently scrape into an ungreased 8 oz ramekin or custard cup. You can also use a miniature loaf pan. Bake for 15 to 18 minutes until lightly golden brown and a toothpick inserted in the center comes out clean.
Remove from the oven and cool. Angel food cake needs to be cooled hanging upside down. I placed two loaf pans on either side an rested the edge of the ramekin on them.
Allow to cool for an hour. Then run a knife around the edge of the cake and remove from the ramekin.
Notes
*If you don't have powdered sugar, just use granulated sugar. The texture isn't quite as fluffy but it still turns out well.
Make sure you don't grease your loaf pan or ramekin and that you clean off any residual grease. Angel food cake needs to cling to the sides of the pan in order to rise properly so grease on your baking dish will keep it from rising.
If you're having any issues getting your egg whites to medium peaks (or aren't sure what medium peaks are) then check out this article.
Nutrition Information:
Yield:

1
Serving Size:

1
Amount Per Serving:
Calories:

154
Total Fat:

0g
Saturated Fat:

0g
Trans Fat:

0g
Unsaturated Fat:

0g
Cholesterol:

0mg
Sodium:

188mg
Carbohydrates:

33g
Fiber:

0g
Sugar:

24g
Protein:

5g
Nutrition information is an estimate only.
If you're looking to use the egg yolk left over from this recipe, I recommend my Small-Batch Lemon Bars. If you're looking for another single-serving cake recipe, check out my Eggless Chocolate Cake for One.
What Toppings Go With Angel Food Cake?
You can put any fruit, sauce or other topping, but I specifically enjoy these toppings:
Strawberries
Berries (blueberries, blackberries, raspberries)
Mangos
Peaches/nectarines
Chocolate sauce (like this small-batch chocolate sauce)
Caramel sauce
Fruit syrup (such as strawberry syrup)
Whipped cream
Yogurt
Pudding
If you like this single serve brownie recipe, let me know! Or if you've made the recipe let me know how it went. I'd love to hear from you in the comments. Happy baking!