I love all lemon desserts and lemon bars (or lemon squares if you prefer) are high on my list of favorite desserts. These lemon bars have an amazing crispy shortbread crust. The lemon topping is tangy and not too sweet is highly reminiscent of lemon curd.
Even better, is this is a small-batch lemon bar recipe. If you're looking to make lemon bars for one or two people, check out this easy lemon bar recipe. Now you can make a small batch of lemon bars instead of a whole pan. If you're looking for a small-batch lemon dessert bar, look no further!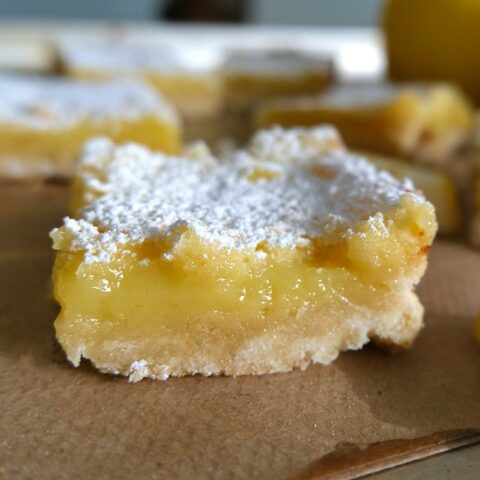 Small Batch Lemon Bars
Yield:
6 medium-size bars
These lemon bars are not too sweet with a tangy lemon curd on a shortbread crust. Even better, you can make a small batch so you don't have to make a big pan of lemon bars when you're wanting a lemon dessert.
Ingredients
Shortbread Crust
4 tablespoons butter
2 tablespoons and 2 teaspoons granulated sugar
3/4 cup all-purpose flour
Pinch salt
Lemon Curd Filling
1 whole egg and 1 yolk
1/4 teaspoon baking powder
1/2 cup and 1 tablespoon sugar
1 1/2 tablespoons all-purpose flour
1 teaspoon lemon zest
3 tablespoons fresh lemon juice
Powdered sugar, for dusting
Instructions
Preheat oven to 350°F. Thoroughly grease a 9x5 inch loaf pan. Set aside
To make the crust, use a hand mixer to beat the butter for 30 seconds. Then add the 2 tablespoons and 2 teaspoons sugar and beat until fluffy, about 2 minutes.
By hand, stir in the 3/4 cup flour until a crumbly mixture forms. Firmly pat the dough into the greased pan. Bake for 10 to 14 minutes or until the edges are lightly golden brown.
While the crust is cooking, make the filling. In a small bowl, use a hand mixer to beat the 1 whole egg + 1 yolk, 1/2 cup + 1 tablespoon sugar, 1 1/2 tablespoons flour, 1 teaspoon lemon zest and 3 tablespoons lemon juice. Beat for 3 minutes or until slightly thickened.
Pour the filling over the hot shortbread crust. Put bake in the oven and bake and additional 15 to 20 minutes. Bake until light golden brown around the edges and the center is set.
Cool completely then sift powdered sugar over the top.
Notes
I used one large lemon for this recipe and had plenty of zest and juice.
Either a glass or metal loaf pan can be used, however, I used a metal loaf pan when making this recipe. If using glass, you may need just a little more baking time, but, as with all baked goods, watch carefully to avoid overbaking.
Nutrition Information:
Yield:

6
Serving Size:

1
Amount Per Serving:
Calories:

246
Total Fat:

9g
Saturated Fat:

5g
Trans Fat:

0g
Unsaturated Fat:

3g
Cholesterol:

82mg
Sodium:

117mg
Carbohydrates:

38g
Fiber:

1g
Sugar:

23g
Protein:

3g
Nutrition information is an estimate only.
If you're looking for another delicious lemon dessert, check out this Lemon Cheesecake Hand Pie recipe!
How To Store Lemon Bars
Can you store lemon bars at room temperature?
The egg-based filling in lemon bars does require refrigeration. Lemon bars can be left out for a couple of hours but anything beyond that and they'll need refrigeration. Store in an airtight container for up to 4 days.
Can You Freeze Lemon Bars?
Absolutely! Allow the lemon bars to fully cool then wrap tightly in plastic wrap or aluminum foil and place in an airtight container or zip-top freezer bag. Lemon bars should last up to 3 months in the freezer.
How Do You Thaw Lemon Bars?
Thaw lemon bars by placing overnight in the fridge or set out for 30 to 45 minutes at room temperature. Once thawed, dust with powdered sugar. I don't recommend microwaving lemon bars to thaw them as it may affect the integrity of the lemon curd filling and make it runny and melted.
What Should Lemon Bars Look Like When Done?
Lemon bars should look dry on the surface with golden brown edges. If you gently shake the pan, you shouldn't see any jiggling. If you have issues with lemon bars that are runny and not set, then you likely haven't been baking them for long enough. If your lemon bars seem dry, tough or the shortbread crust is overly crunchy then they are likely overbaked.
The filling in my small-batch lemon bars should be soft and reminiscent of lemon curd. However, they should hold their shape when cut and shouldn't be runny.
Why Small-Batch Desserts?
I love this small-batch lemon square recipe because it helps me prevent waste. I don't end up with a large pan of lemon bars that is too much for me to eat.
I also love that it can help use up small amounts of ingredients that you may have left over from other recipes such as the one lemon used in these bars.
If you like this peach pie for one recipe, let me know! Or if you've made the recipe let me know how it went. I'd love to hear from you in the comments. Happy baking!