Crepes are thin, soft and go wonderfully with both sweet and savory fillings. And once you learn how to make them, you'll realize they are actually much easier than they seem. Enjoy!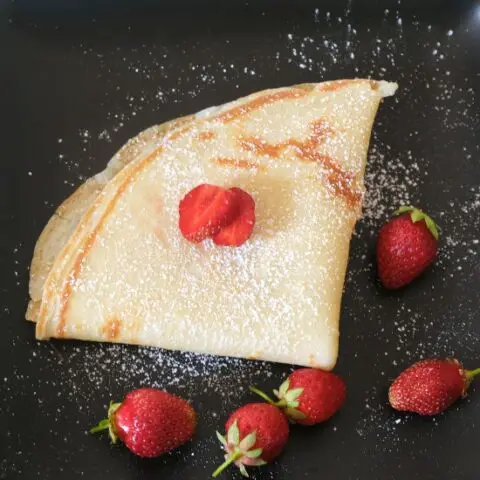 Small Batch Crepes
Soft, tender crepes go perfectly with both sweet and savory toppings. The perfect breakfast (or brunch) for one or two people.
Ingredients
1/4 cup all-purpose flour
1/8 teaspoon salt
1 egg white
1/4 cup warm milk
1 tablespoon butter (melted)
1 tablespoon water
1 teaspoon sugar (can leave out if using savory fillings)
Instructions
If you have a small blender, place all the ingredients in the blender and blend for about 10 to 15 seconds until combined. If you don't have a blender, mix all wet ingredients then add dry ingredients and whisk until completely combined.
Refrigerate for at least 20 minutes and up to overnight. This helps the bubbles settle and the mixture come together so it is less likely to break when cooking.
Heat a 10-inch non-stick pan and melt a small amount of butter to lightly coat the pan. Pour half of the mixture into a pan and quickly swirl the batter in the pan to evenly cover it. Cook for about 60 seconds then flip and cook on the other side for another 20 to 30 seconds. Remove from the pan and repeat for the second crepe.
Serve immediately.
Notes
If you're looking to prepare the crepe batter ahead of time and then cook it later the batter should last up to 3 days in the fridge. Just gently stir prior to cooking if the batter has any separation.
Nutrition Information:
Yield:

1
Serving Size:

1
Amount Per Serving:
Calories:

279
Total Fat:

13g
Saturated Fat:

8g
Trans Fat:

1g
Unsaturated Fat:

4g
Cholesterol:

35mg
Sodium:

430mg
Carbohydrates:

31g
Fiber:

1g
Sugar:

8g
Protein:

9g
Nutrition information is an estimate only.
If you're looking for the way to use up your left over egg, I recommend this Banana Sheet Cake for Two or Small-Batch Lemon Bars.
If you are having issues with your crepes, I highly recommend checking out my Crepe Troubleshooting Guide.
Storage
If not eaten immediately, crepes should be stored in the fridge. Place a piece of parchment paper between the two crepes and store them in a zip-top bag with all the air pushed out. Crepes should last 5 days in the fridge.
If you want to freeze your crepes, place a piece of parchment paper between the fully cooled crepes and store them in a zip-top bag in the freezer. Then pull out and allow to thaw in the fridge once ready to eat them. Crepes should last up to 2 months in the freezer.
When reheating your crepes, heat up a pan and place the crepe in the pan. Allow to sit about 30 seconds then flip the crepe and heat anther 15 to 20 seconds until warmed up. If your crepe has dried out, place a lid over the pan to keep the moisture in.
What to Fill Crepes With
Sweet Fillings

Sweetened cream cheese
Fresh fruit (berries, peaches, and strawberries are all great options)
Pie filling (such as peach or apple pie filling)
Crushed graham crackers
Lemon curd
Whipped cream
Chocolate sauce
Nutella
Peanut butter
Speculoos
Savory Fillings

Savory cream cheese
Egg
Veggies
Ham
Sausage
Bacon
Deli meat
Cheese
If you like this single serve brownie recipe, let me know! Or if you've made the recipe let me know how it went. I'd love to hear from you in the comments. Happy baking!