I have always enjoyed these sweet potato biscuits as a fun take on the regular biscuit. Buttery, flaky, and sweet with a hint of cinnamon and allspice are the perfect breakfast or brunch pastry. Sweet potato biscuits are also are a great side dish with almost any meal. Enjoy!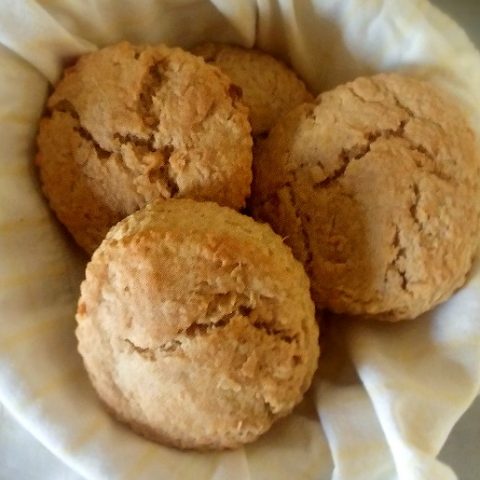 Sweet Potato Biscuits
Additional Time:
30 minutes
Flaky, sweet, and tender. These sweet potato biscuits are perfect as a breakfast pastry or as a side dish.
Ingredients
5 cups flour
2 tablespoons baking powder
1 teaspoon salt
1/2 teaspoon allspice
2 cups cooked, mashed and cooled sweet potatoes (about 1 large sweet potato)
1 cup packed brown sugar
1 1/2 teaspoons cinnamon
1 teaspoon ginger
1 cup butter (frozen)
1 cup milk
1/2 cup chopped pecans (optional)
Instructions
Preheat oven to 350 degrees Fahrenheit.
Stir together the flour, brown sugar, baking powder, cinnamon, salt, ginger, and allspice. Grate frozen butter and mix in until the mixture is crumbly.
Add the cooled sweet potatoes and mix well. Add milk and pecans (if using) and stir until the dough just comes together. You may need to add additional milk if the dough is not coming together. Be careful not to overmix.
Turn the dough out onto a lightly floured surface. Roll out dough to about 1 1/2-inch thickness. Cut out with a 2 1/2 inch floured biscuit cutter. Place biscuits 1 inch apart on ungreased baking sheets.
Bake for 25 to 30 minutes or until golden brown. These are best served warm.
Notes
You can use a smaller cutter if smaller biscuits are desired. You will want to bake them for 3 to 5 minutes less to prevent overbaking.
I chose to boil the sweet potatoes, but you can also use baked sweet potatoes.
Nutrition Information:
Yield:

15
Serving Size:

1
Amount Per Serving:
Calories:

366
Total Fat:

16g
Saturated Fat:

8g
Trans Fat:

1g
Unsaturated Fat:

6g
Cholesterol:

34mg
Sodium:

456mg
Carbohydrates:

51g
Fiber:

3g
Sugar:

14g
Protein:

6g
If you're looking for another quick bread side dish, check out my Best Ever Sweet Cornbread recipe.
Storage
Biscuits (in my opinion) are best served fresh so that they retain their crispy crust. However, they are still good for 2-3 days after baking; they will just have a softer crust. The dough can be frozen, unbaked. Layer the dough between waxed paper and store in the freezer for up to 3 months. Defrost dough and bake for 25 to 30 minutes.
Aren't All Sweet Potatoes Orange?
Sweet potatoes can come in a range of colors, from white to pale yellow to bright orange. White and yellow sweet potatoes are drier and more starchy than orange sweet potatoes. However, any type of sweet potato is fine for this recipe. You may need to add a little more milk if using a white or yellow sweet potato.
Why Frozen Butter?
This recipe originally called for 1 cup of shortening. However, I found that butter results in a more flaky, tender biscuit, and the flavor is better as well. Keeping your butter cold and minimizing how much you handle your dough results in a better biscuit. Grating frozen butter is a great way to ensure your cold butter is well distributed without worrying about overworking your dough.
If you'd like a more in-depth discussion on the difference between butter vs. shortening in biscuit dough, I recommend checking out this article from Handle the Heat.
If you made this recipe, I'd love to hear about it! Please leave a review or a comment letting me know how things turned out. Happy baking!