This vegan single-serving cinnamon roll is perfect when you want to make just one cinnamon roll. It is baked in a ramekin and only requires a single rise so they are easy and the perfect treat for one. Enjoy!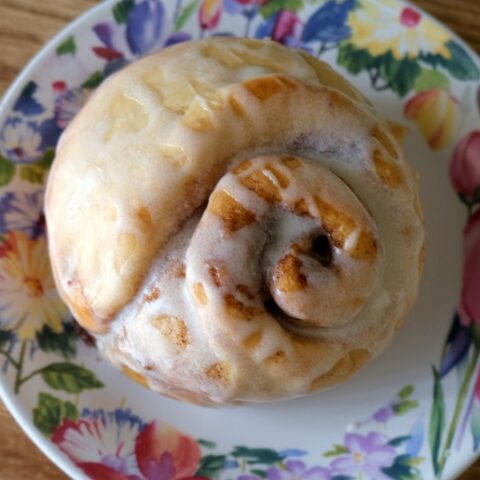 Vegan Cinnamon Roll for One
Additional Time:
20 minutes
Total Time:
1 hour
15 minutes
This cinnamon roll is completely vegan but still has the soft, fluffy, chewy texture you expect from a cinnamon roll. The filling is sweet and bursting with cinnamon flavor.
Ingredients
Cinnamon Roll for One
2 teaspoons vegetable oil
2 tablespoons + 2 teaspoons oat milk
1/4 teaspoon yeast
1/8 teaspoon baking powder
2 teaspoons granulated sugar
1/8 teaspoon unflavored psyllium husk powder mixed with 1 teaspoon cold water
Pinch salt
1/2 cup + 1 tablespoon all-purpose flour
Cinnamon Roll Filling
1 1/2 tablespoons vegan butter spread (I use Original Earth Balance)
2 tablespoons brown sugar
1 tablespoon granulated sugar
3/4 teaspoon cinnamon
1/8 teaspoon vanilla extract
Glaze
3 tablespoons powdered sugar
1 teaspoon vegan butter spread
1/8 teaspoon vanilla
Pinch salt
Instructions
Preheat oven to 350°F. Grease an 8oz ramekin and set aside.
In a small bowl whisk the 1/2 cup + 1 tablespoon flour, 2 teaspoon sugar, 1/8 teaspoon baking powder, 1/4 teaspoon yeast, and pinch of salt.
In a separate bowl mix the 2 tablespoons + 2 teaspoons oat milk and heat until warm, about 10 seconds. Mix in the 1/8 teaspoon vanilla, psyllium husk mixture, 2 teaspoons oil, and flour mixture.
Mix thoroughly and knead until smooth. Set aside for 10 minutes.
Meanwhile, mix the 1 1/2 tablespoons butter spread, 2 tablespoons brown sugar, 1 tablespoon sugar, 3/4 teaspoon cinnamon and 1/8 teaspoon vanilla.
Roll out the cinnamon roll dough. You will want a long thin strip, about 3 inches tall and 12 inches wide. Spread the filling evenly over the dough, leaving one of the short edges without filling.
Roll up, starting with the short edge that is covered with filling. Use the uncovered edge of the dough to lightly pinch the dough together so your cinnamon roll doesn't come apart.
Place the cinnamon roll in the greased ramekin and bake for 14 to 18 minutes until lightly golden brown and firm on top.
Allow the cinnamon roll to cool slightly while mixing the 3 tablespoons powdered sugar, 1 teaspoon butter spread, pinch salt, and a splash of vanilla. Drizzle over the top of the cinnamon roll. Enjoy!
Notes
While the recipe can be made without the psyllium husk powder, it greatly improves the cinnamon roll texture. Without the psyllium husk powder the texture will be more biscuit-like. If possible, get your psyllium husk powder from a bulk bin at your grocery store so you can just get a small amount.
Nutrition Information:
Yield:

1
Serving Size:

1
Amount Per Serving:
Calories:

602
Total Fat:

35g
Saturated Fat:

22g
Trans Fat:

1g
Unsaturated Fat:

10g
Cholesterol:

92mg
Sodium:

605mg
Carbohydrates:

74g
Fiber:

2g
Sugar:

65g
Protein:

2g
Nutrition information is an estimate only.
If you'd like the non-vegan version of this cinnamon roll, check out my single serve cinnamon roll recipe. If you'd like another vegan treat I recommend this vegan coconut mango ice cream.
If you like this single serve brownie recipe, let me know! Or if you've made the recipe let me know how it went. I'd love to hear from you in the comments. Happy baking!