I have always loved a fresh, homemade blueberry crisp and these mini blueberry crisps are a great way to enjoy a blueberry dessert for one or two people. The blueberries are sweet and flavorful, all topped with a crunchy oat crumble. Baked in a ramekin, you'll only need two dishes and about an hour to make this simple blueberry crisp. It is also easy to scale up so you can have individual blueberry crisps for two or more. Enjoy!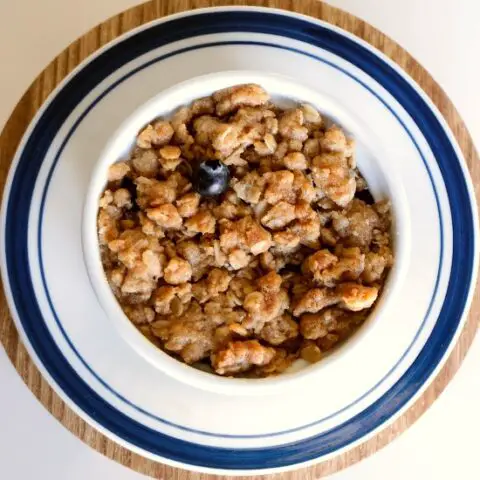 Single Serving Blueberry Crisp Recipe
Total Time:
1 hour
50 minutes
If you're looking for a blueberry crisp for one, this is the recipe for you! This individual blueberry crisp has sweet blueberry filling with crunch oatmeal topping.
Ingredients
1 cup blueberries (fresh or frozen)
1 teaspoon lemon juice
2 tablespoons granulated sugar
1 1/2 teaspoons cornstarch
3 tablespoons brown sugar
2 tablespoons rolled oats
3 tablespoons all-purpose flour
Pinch salt
1/8 teaspoon cinnamon
2 tablespoons cold butter
Instructions
Preheat oven to 350°F.
In an 8 ounce ramekin, mix the blueberries with 1 teaspoon lemon juice, 2 tablespoons sugar, and 1 1/2 teaspoons cornstarch.
In a small bowl, mix the 3 tablespoons brown sugar, 2 tablespoons rolled oats, 3 tablespoons all purpose flour, 1/8 teaspoon cinnamon, and pinch of salt.
Add the 2 tablespoons butter and use a fork to cut in the butter until pea-sized crumbs form.
Spread the topping evenly over the apples. Bake 30 to 35 minutes until the topping is golden brown and the filling is bubbly.
Allow to cool slightly then serve warm or at room temperature.
Notes
I highly recommend serving this warm with a big scoop of ice cream or whipped cream
While I making this with fresh blueberries is preferable, you can use frozen blueberries, simply add an additional 1/4 teaspoon cornstarch.
Nutrition Information:
Yield:

1
Serving Size:

1
Amount Per Serving:
Calories:

652
Total Fat:

24g
Saturated Fat:

15g
Trans Fat:

1g
Unsaturated Fat:

8g
Cholesterol:

61mg
Sodium:

328mg
Carbohydrates:

108g
Fiber:

5g
Sugar:

72g
Protein:

5g
Nutrition information is an estimate only.
If you're looking for another single serving fruit crisp recipe, I recommend checking out my Individual Apple Crisps recipe. For another easy small batch dessert, try this Chocolate Cake for Two.
How to Store Blueberry Crisp
If you need to store your individual blueberry crisp, I recommend covering the ramekin with plastic wrap or reusable wrap and storing it in the fridge. Blueberry crisp should last 2 to 4 days in the fridge.
You can freeze blueberry crisp before or after baking. Simply wrap your ramekin tightly in a layer of plastic wrap and a layer of foil (make sure your ramekin is freezer safe). Store in the freezer up to 3 months.
To thaw your frozen blueberry crisp, thaw overnight in the fridge. If unbaked, bake as you typically would. If baked before being frozen, simply bake until the blueberry crisp is hot, rather than the full 30 to 40 minutes.
What is the Difference Between a Fruit Crisp, Crumble, and Cobbler?

A fruit crisp has a fruit filling topped with a streusel. In a crisp, the crunchy streusel topping has oats in it. Typically rolled oats are used.

Fruit crumble is also fruit filling topped with streusel but without oats.

Cobblers are similar to crisps and crumbles in that they have a fruit filling with no bottom crust. However, instead of a streusel topping they have a fluffy, baked biscuit on top of the fruit filling.
If you like this single serve brownie recipe, let me know! Or if you've made the recipe let me know how it went. I'd love to hear from you in the comments. Happy baking!