I purchased a large container of Ataulfo (AKA champagne) mangoes on a recent grocery store trip. They were so beautifully golden that I couldn't resist. However, I quickly realized that my family would not be able to eat all of them before they went bad. So I decided to make a batch of vegan coconut mango ice cream. With only five ingredients and no cooking required, this recipe is so easy to make. One bite will make you feel like you are on a tropical vacation. Enjoy!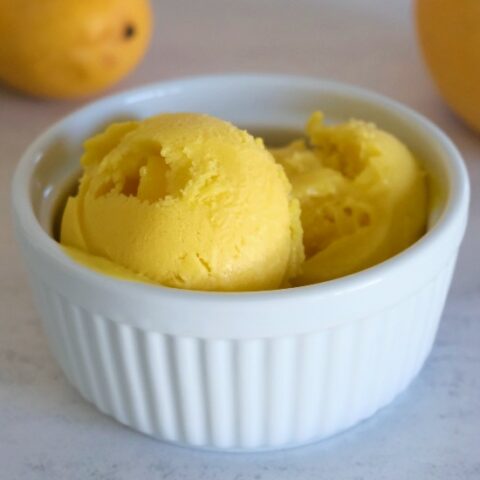 Vegan Coconut Mango Ice Cream
Total Time:
3 hours
20 minutes
With no dairy and no eggs, this tropical treat is entirely vegan. The sweetness of the mango complements the creamy nuttiness of the coconut. And with just five ingredients, it's effortless to make.
Ingredients
2 cups chopped mango
1 (14oz) can full-fat coconut milk
1/2 cup granulated sugar
1 tablespoon lime juice
1/4 teaspoon salt
Instructions
Puree mango with the sugar and half of the coconut milk.
Stir in the lime juice, salt, and the rest of the coconut milk.
Chill for at least 2 hours.
Churn your chilled ice cream base until it is the consistency of soft-serve ice cream.
Place your churned ice cream in a loaf pan and freeze for an additional 2-4 hours.
Serve.
Notes
You can serve your mango ice cream with fresh fruit, a sprinkle of Tajin, or all on its own.
I really recommend using the full-fat coconut milk in this recipe. Light coconut will result in an icier, less creamy ice cream.
Nutrition Information:
Yield:

8
Serving Size:

1
Amount Per Serving:
Calories:

129
Total Fat:

6g
Saturated Fat:

5g
Trans Fat:

0g
Unsaturated Fat:

0g
Cholesterol:

0mg
Sodium:

70mg
Carbohydrates:

20g
Fiber:

1g
Sugar:

18g
Protein:

1g
Nutrition information is an estimate only.
Having Ice Cream Troubles?
If you have issues with your ice cream, such as gritty texture, ice cream isn't freezing, etc. I recommend checking out my article on 5 common mistakes made with homemade ice cream and how to fix them.
Homemade Ice Cream Storage
Vegan Coconut Mango ice cream is best if you eat it within a couple of days after making it. The longer ice cream is stored, the more crystallized it will become. Store in an airtight container in the freezer with plastic wrap pressed into the top. You can keep your homemade ice cream for up to 1 month.
If you like this mini apple crisp recipe, let me know! Or if you've made the recipe let me know how it went. I'd love to hear from you in the comments. Happy baking!