Pull-apart bread (or monkey bread) was a much-loved breakfast in my home growing up. It was usually a breakfast we would make on special occasions. Nothing says "holidays" to me like warm monkey bread.
Many versions of this Butterscotch Pecan Pull-Apart Bread use "Cook & Serve" pudding. However, while I usually have instant pudding in my cupboard, I never have "cook & serve" pudding. Because this tends to be a spur-of-the-moment recipe, I use instant pudding. Also, rather than pouring the pudding mixture and butter over the top, the rolls are covered individually. I have used the pouring method several times but found that sometimes I end up with uncooked, powdered pudding mix rather than the delicious caramelized goo I want. Enjoy!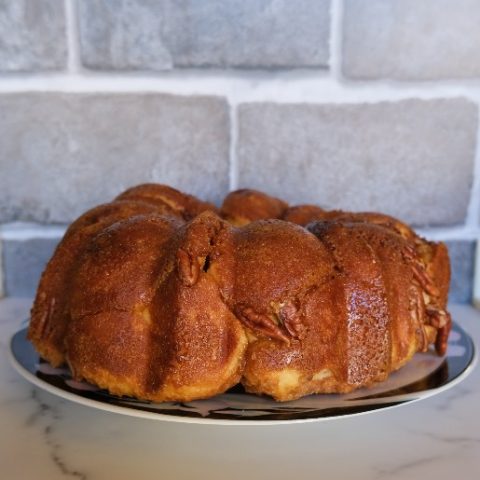 Butterscotch Pecan Pull Apart Bread
Total Time:
3 hours
15 minutes
This pull-apart bread is sweet and gooey with a crispy exterior and full of pecan pieces. It is the perfect breakfast for a special occasion.
Ingredients
Dough
2 tablespoons butter (melted)
1 cup warm water
1 tablespoon yeast
1 large egg
1/4 granulated sugar
3/4 teaspoon salt
3 1/4 cup all-purpose flour
1/2 teaspoon baking powder
Topping
1/2 cup brown sugar
1/2 cup + 2 tablespoons butter
Instant Butterscotch Pudding (3.4oz)
1/2 chopped pecans
Instructions
Combine warm water and melted butter. Dissolve the yeast in the water, blend in the egg, sugar, and salt. Mix in flour and baking powder.
Knead until smooth and elastic, approximately 5 minutes. Place back in bowl and cover. Let rise until double.
Grease a bundt pan generously with 2 tablespoons of butter. Set aside.
Mix brown sugar and pudding in a small bowl.
Divide the roll dough into 24 small balls. Roll the pieces in the 1/2 cup butter (melted), then roll them in the pudding mixture. Layer evenly in the bundt pan. Sprinkle the pecans evenly between the layers.
If there is any leftover pudding mixture and butter, sprinkle the remaining over the top of the rolls.
Cover and let rise until doubled again. Bake at 350°F for 22-30 minutes.
After removing the bread from the oven, carefully place a plate on top of the bundt pan then flip it upside down to remove the bread from the bundt pan (I recommend using oven mitts). Serve warm.
Notes
If you want this bread ready first thing in the morning, you can make it the night before. Make the roll dough, let it rise, and assemble the bread according to the recipe. Then cover and place in the refrigerator for 8 hours or overnight. In the morning, allow to rise in a warm place for 1 hour then bake.
Nutrition Information:
Yield:

8
Serving Size:

1
Amount Per Serving:
Calories:

357
Total Fat:

12g
Saturated Fat:

5g
Trans Fat:

0g
Unsaturated Fat:

7g
Cholesterol:

40mg
Sodium:

315mg
Carbohydrates:

55g
Fiber:

2g
Sugar:

12g
Protein:

8g
Nutrition information is an estimate only.
If you're looking for another easy, sweet breakfast treat, try my buttons and bowknots recipe!
Storage
Pull-apart bread (aka monkey bread) is best served fresh and still warm. However, it maintains its freshness for 1-2 days after baking. Store in an airtight container at room temperature. The baked loaf can also be frozen. Allow your bread to fully cool, then wrap it tightly and place in an airtight container. Frozen pull-apart bread is good for 2-3 months.
How to Know Your Monkey Bread is Baked
One big concern for pull-apart or monkey bread is when it is doughy or underbaked in the center. To avoid a doughy interior, you don't want your monkey bread to be too thick. You also want to make sure that you bake it long enough. The visible portion of the bread should be nice and golden brown. If your bread seems cooked on the top but is still pale, it is likely underbaked inside.
If you made this recipe, I'd love to hear about it! Please leave a review or a comment letting me know how things turned out. Happy baking!