My son was born about 3 weeks before my husband's birthday. Obviously, we weren't going to throw a big party, instead, I made him a German Chocolate Cake. Since then, all things German chocolate have become a favorite at our house. This recipe has fluffy, creamy chocolate frosting and gooey coconut and pecan topping all on fudgy brownies making it a rich, decadent dessert. Enjoy!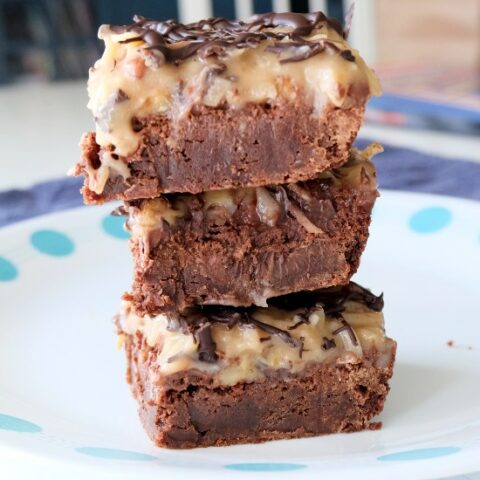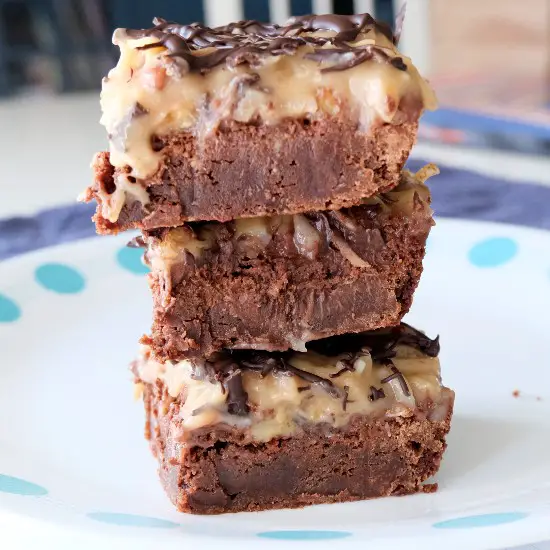 German Chocolate Brownies
Total Time:
1 hour
10 minutes
These German Chocolate brownies are rich and fudgy with a creamy chocolate frosting and gooey coconut pecan topping. They'll be a hit at every party or BBQ you bring them to.
Ingredients
Brownies
1 package unsweetened Baker's chocolate
3/4 c butter
2 cups granulated sugar
3 eggs
1 teaspoon vanilla extract
1 cup flour
Chocolate Frosting
1/2 cup butter
2/3 cup cocoa powder
3 cups powdered sugar
1/3 cup evaporated milk
1 teaspoon vanilla extract
Coconut Frosting
1/2 cup brown sugar
1/2 cup granulated sugar
1/2 cup butter
3 egg yolks
3/4 cup evaporated milk
1 tablespoon vanilla extract
1 cup shredded coconut
1 cup chopped pecans
Chocolate Drizzle
6 oz semi-sweet chocolate
1 teaspoon coconut oil
Instructions
Brownies
Preheat the oven to 350°F. Line a 9x13" pan with aluminum foil and spray with non-stick cooking spray.
In the microwave or in a pot on the stove, melt the Baker's chocolate and 3/4 cup butter. Once melted, stir in the 2 cups of granulated sugar. Blend in eggs and vanilla. Add flour; mix well.
Pour into pan and bake 30-35 minutes or until a toothpick stuck in comes out with fudgy crumbs. Cool.
Coconut Frosting
Combine brown sugar, 1/2 cup granulated sugar, 1/2 cup butter, egg yolks, and 3/4 cups evaporated milk in a medium saucepan. Bring to a low boil over medium heat. Stir constantly until the mixture begins to thicken.
Remove from heat and add vanilla, pecans, and coconut. Allow to cool to room temperature. While cooling, begin working on chocolate frosting.
Chocolate Frosting
Beat 1/2 cup softened butter until fluffy. Add cocoa powder and 1 cup powdered sugar and beat in. Add the other 2 cups of powdered sugar and beat thoroughly. Add 1/3 cup evaporated milk and vanilla and beat until smooth.
Spread over cooled brownies and chill for about 30 minutes. Once chilled, spread room temperature coconut frosting over the top of the chocolate frosting.
Chocolate Drizzle
In the microwave or a small saucepan, gently heat coconut oil with chocolate until smooth and melted. Use a fork to drizzle over the top of the brownies. Let cool, cut, and serve.
Notes
I love the addition of the creamy chocolate frosting as it adds additional texture and chocolate flavor. However, if you are low on time or ingredients, the chocolate frosting can be omitted.
Be careful to heat the egg mixture over low heat, otherwise, the eggs may scramble. If you do end up with small bits of egg, the mixture can be run through a sieve (before adding the coconut and pecan). From personal experience, I can tell you that this should remove the gritty texture and the topping should still thicken properly.
Nutrition Information:
Yield:

20
Serving Size:

1
Amount Per Serving:
Calories:

496
Total Fat:

27g
Saturated Fat:

15g
Trans Fat:

1g
Unsaturated Fat:

10g
Cholesterol:

102mg
Sodium:

169mg
Carbohydrates:

63g
Fiber:

2g
Sugar:

54g
Protein:

5g
Nutrition information is an estimate only.
If you're looking for more great brownie recipes, check out these unique brownie recipes. If you're having any issues with your brownies, here's a great article on how to make amazing brownies.
Storage
Because of the egg in the coconut topping, German chocolate brownies should be stored in the fridge. Stored in an airtight container in the fridge, they should last 5 to 7 days.
German chocolate brownies can be frozen and should last for 3 to 4 months in the freezer if stored in an airtight container. They can be frozen as the entire pan, or cut into slices, freeze, then layer with parchment paper and place in an airtight container or freezer bag.
How to thaw them depends on how they were frozen. If you froze the entire pan, place it in the refrigerator overnight to thaw. If thawing a single brownie, place it on a plate at room temperature for 1 to 2 hours, then eat.
What is German chocolate?
In general, German chocolate desserts involve chocolate with a gooey, coconut pecan topping. Originally, German chocolate cake was named for the chocolate used to make it, "German's Sweet Chocolate Bar." It's made by the Baker's Chocolate Company and has been since the 1850's. It is reportedly named after the creator of the bar, Sam German.
Reportedly, the newspaper that printed the first German's Chocolate Cake recipe had a misprint that left out the "s" in the name, resulting in German Chocolate Cake despite there being nothing German about it.
German's chocolate bar is close to semi-sweet chocolate so it makes a dessert sweeter. Most German chocolate recipes you see now simply use unsweetened chocolate or cocoa powder. I use unsweetened Baker's chocolate as I don't feel this dessert needs any additional sweetness.
If you're interested in learning more about how chocolate is made, check out this article.
If you like this mini apple crisp recipe, let me know! Or if you've made the recipe let me know how it went. I'd love to hear from you in the comments. Happy baking!