This recipe is perfect for when you are looking to make a small-batch dessert from scratch and you have one ripe banana you need to use up. This fluffy banana cake is moist and delicious all topped with tangy whipped cream cheese frosting.
All you need is a loaf pan to bake in and you'll have an quick banana cake for two. I chose to keep this recipe simple by doing a one-layer banana cake rather than dealing with multiple layers. If you don't feel like making the frosting, this cake is also delicious plain, with whipped cream, or even a scoop of ice cream.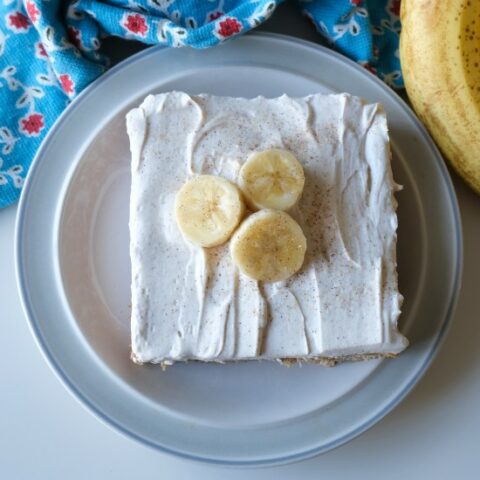 Easy Banana Sheet Cake for Two (With Cream Cheese Frosting)
Yield:
2 large slices of cake
Total Time:
2 hours
40 minutes
This easy banana cake for two is a one layer cake, keeping things simple yet delicious. The soft, fluffy banana cake is topped with creamy whipped cream cheese frosting that is not too sweet.
Ingredients
Banana Cake for Two
1/2 cup all-purpose flour
1/4 teaspoon baking soda
1/4 teaspoon cinnamon
1/8 teaspoon salt
1/4 cup granulated sugar
2 tablespoons brown sugar (packed)
1 egg yolk
2 tablespoons butter, softened
1/4 teaspoon vanilla
1/2 cup mashed banana (about 1 medium banana)
2 tablespoons milk
1 teaspoon lemon juice (can also use vinegar)
Small Batch Cream Cheese Frosting
2 ounces full-fat cream cheese, softened
1/4 cup powdered sugar
Pinch salt
1/4 teaspoon vanilla
1/4 teaspoon cinnamon
1/4 cup + 2 tablespoons heavy whipping cream, cold
Instructions
Preheat oven to 350°F. Grease a loaf pan and set aside.
In a small bowl, whisk together the flour, baking soda, cinnamon and salt. In a separate bowl, use a hand mixer to cream the butter, granulated sugar, and brown sugar. Beat in the egg yolk then mix in the vanilla, mashed bananas, milk, and lemon juice.
Add the dry ingredients to the banana mixture and gently mix by hand, just until combined. Be careful not to overmix or it will make the cake dry and tough.
Spread the batter evenly into the loaf pan and bake for 10 to 15 minutes or until the cake is golden brown and a toothpick inserted in the center comes back with just a few crumbs (it should not have any gooey batter sticking too it). Remove from the oven and allow to cool completely.
While the cake cools, make your frosting. In a large bowl, beat the cream cheese for about 30 seconds. Then add the 1/4 cup powdered sugar, pinch of salt, 1/4 teaspoon cinnamon, and 1/4 teaspoon vanilla. Whip until smooth and creamy.
Add the 1/4 cup + 2 tablespoons heavy whipping cream. Beat until the frosting begins to get fluffy and medium peaks form (it should be the texture of a thick whipped cream).
Notes
Make sure to use softened cream cheese for the frosting to avoid having any chunks of cream cheese in the icing.
Nutrition Information:
Yield:

2
Serving Size:

1
Amount Per Serving:
Calories:

648
Total Fat:

30g
Saturated Fat:

18g
Trans Fat:

1g
Unsaturated Fat:

10g
Cholesterol:

169mg
Sodium:

551mg
Carbohydrates:

90g
Fiber:

3g
Sugar:

59g
Protein:

8g
Nutrition information is an estimate only.
If you're looking for another delicious dessert for two, check out my Mini Eggless Chocolate Cake recipe or if you'd like the full-size version of this recipe, check out my Best Banana Cake Recipe.
How to Store Your Banana Cake for Two
If your banana cake is unfrosted, you can store it at room temperature in an airtight container for up to 2 days or in the fridge for up to 5 days.
If your banana cake is frosted, it needs to be stored in the fridge. Store in an airtight container for up to 5 days.
If you like this single serve brownie recipe, let me know! Or if you've made the recipe let me know how it went. I'd love to hear from you in the comments. Happy baking!