I have always been a big fan of lemon desserts. Now, add that to cheesecake and wrap it in flaky, buttery pastry, and you've got a home run. These hand pies are delicious and so easy to make. Enjoy!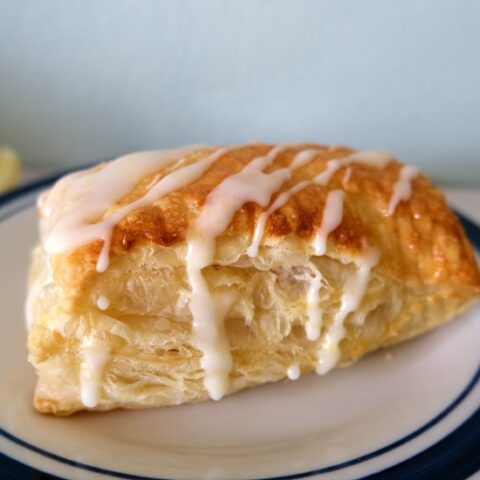 Lemon Hand Pies
Additional Time:
15 minutes
Crisp, flaky hand pies filled with cream cheese filling and sweet and tangy lemon curd. They are easy to make and the perfect snack or breakfast treat.
Ingredients
Filling
8 oz softened cream cheese
2 tablespoons granulated sugar
1 egg yolk
1 teaspoon lemon juice
1/4 teaspoon vanilla extract
1/4 cup lemon curd
Pastry
1 package puff pastry (2 sheets)
1 large egg
1/2 tablespoon granulated sugar
Glaze
2/3 cup powdered sugar
1 tablespoon + 1 teaspoon lemon juice
1/4 teaspoon lemon zest
Pinch salt
Instructions
Beat softened cream cheese and 2 tablespoons of granulated sugar until smooth. Beat in egg yolk, lemon juice, and vanilla until smooth and well-combined. Set aside.
Cut each pastry sheet into 4 squares. Next, cut each square in half to make 16 rectangles.
On 8 of the rectangles, place a heaping tablespoon of cream cheese filling into the center of each rectangle, Then, place 1/2 tablespoon of lemon curd on top of the cream cheese filling (making a bit of a "well" in the cream cheese filling will help keep the curd from running out).
Beat egg. Brush the edges of the filled rectangles with egg wash. Place an unfilled rectangle on top of each of the filled rectangles.
Gently use a fork to press the edges of the pastries to seal them shut. Be sure to do this gently and just at the edges of the hand pies, otherwise, the filling may be squished out. If your fork is sticking, dip it into some flour.
Place the hand pies onto a baking sheet lined with parchment paper, about 2-3 inches apart. Brush with egg wash and sprinkle with the remaining 1/2 tablespoon granulated sugar.
Bake for 15 to 20 minutes or until puffy and golden brown at the edges. Allow to cool for 2-3 minutes then transfer to a cooling rack and allow to cool another 15 minutes.
While the hand pies are cooling, whisk together all of the glaze ingredients. Once pastries have cooled, use a fork to drizzle with glaze. Serve fresh.
Notes
If some of the filling does squish out, do your best to make sure the pastry is sealed, then gently wipe off any excess filling with a paper towel.
If desired, these pastries can be made as a Danish rather than a hand pie. Simply cut the pastry into 8 squares and put egg wash on the corners of the pastry squares. Fold in the corners about 1" and fill the centers with cream cheese filling and lemon curd. Brush egg wash on exposed pastry and sprinkle with granulated sugar.
Nutrition Information:
Yield:

8
Serving Size:

1
Amount Per Serving:
Calories:

210
Total Fat:

13g
Saturated Fat:

7g
Trans Fat:

0g
Unsaturated Fat:

5g
Cholesterol:

85mg
Sodium:

139mg
Carbohydrates:

20g
Fiber:

0g
Sugar:

17g
Protein:

3g
Nutrition information is an estimate only.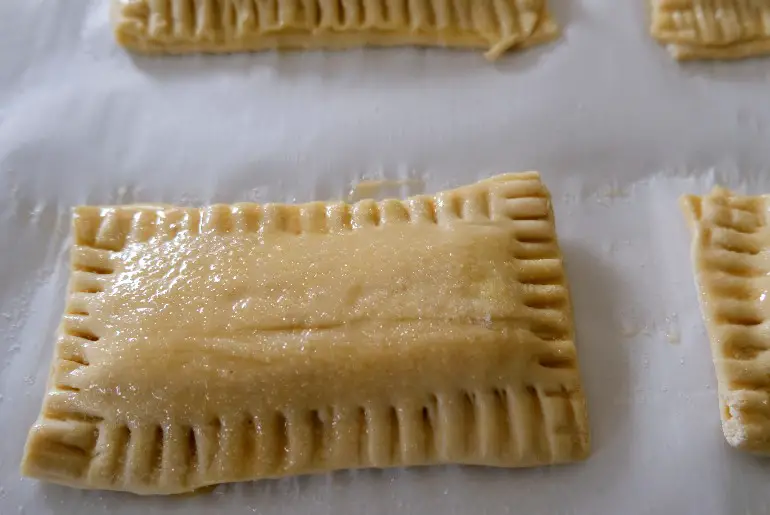 Be sure to keep the fillings in the center of the hand pie as much as possible to prevent the filling from spilling out. If some filling does get pressed out, gently wipe it off the edges of the hand pie to prevent it from burning.
If you want to try some other amazing pastries, I recommend these Nutella cream cheese danishes or apple pie danishes.
Storage
These Lemon Cheesecake Hand Pies are best the day they are baked. However, they will last 2-3 days if stored in an airtight container in the fridge. They will also last up to 2 weeks stored in an airtight container in the freezer.
What is Lemon Curd?
Lemon curd is a sweet and tangy dessert topping or spread, similar to a jam. It is rich and buttery with intense lemon flavor.
Lemon curd can be homemade or storebought. It is typically found near the canned pie fillings if you are looking for it in the store.
Lemon curd is made from lemon juice, sugar, egg yolks and butter.
The lemon juice, sugar and egg yolks are gently cooked and as the eggs cook they thicken the mixture. It is important to cook very gently otherwise the eggs scramble and you end up with soupy scrambled eggs. After the curd thickens, the butter is stirred in and the heat of the curd melts the butter.
Homemade lemon curd can be very intimidating but it's not as hard as it seems and the result is delicious.
If you like this peach pie for one recipe, let me know! Or if you've made the recipe let me know how it went. I'd love to hear from you in the comments. Happy baking!