This recipe was inspired by the candies left over when you get to the bottom of a bag of Halloween candy. While I don't mind a Tootsie Roll here and there, they just can't compete with a box of Nerds or a mini Kit Kat. So I decided to take the unappreciated Tootsie Roll and turn it into a delicious dessert. A flaky crust filled with creamy Tootsie Roll pudding and topped with fluffy homemade whipped cream. You'll find yourself wanting to make it all year round.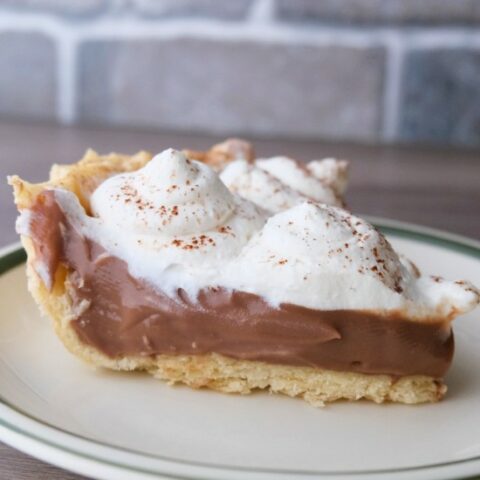 Tootsie Roll Pie
Additional Time:
4 hours
30 minutes
Total Time:
5 hours
40 minutes
Tootsie Rolls are arguably the most boring treat you'll find in your kid's Halloween candy. So turn it into an amazing dessert that is so good you'll go buy Tootsie Rolls (on purpose!) so you can make it again.
Ingredients
Pie Crust
2/3 cup shortening (I use butter-flavored)
2 cups all-purpose flour
1/2 teaspoon salt
4 -6 tablespoons cold water
Pie Filling
1 1/2 cups whole milk
1/2 cup heavy cream
40 Tootsie Toll "Midgees" (if you don't have Midgees, it's the same as 8oz or 227g of Tootsie Rolls)
2 tablespoons cocoa powder
3/4 cup sweetened condensed milk
1/8 teaspoon salt
4 large egg yolks
4 tablespoons cornstarch
1 1/2 teaspoons vanilla
Whipped Cream Topping
1 cup heavy whipping cream
3 tablespoons granulated sugar
1 teaspoon vanilla
Instructions
Preheat the oven to 450° F.
For the pie crust, combine shortening, salt, and 1/2 cup flour. Cream together until smooth.
Dump in the 1/4 cup of water and the rest of the flour. Mix just until the mixture clings together. Add a little bit of water if not coming together. Roll 1/8" thick and place in a 10" pie dish. Trim any excess crust. You can pinch the crust to flute it or press around the crust with a fork (or something else if you're fancy).
Line with parchment paper and place a layer of dry beans or pie weights in the dish (see note). Bake for 10 minutes or until just golden brown. Set aside to cool.
Now it's time for the pie filling. Whisk yolks and cornstarch in a medium heatproof bowl and set aside. Also, prep an ice bath by filling a large bowl halfway with ice and water.
Mix milk, cream, Tootsie Rolls, cocoa, condensed milk, and salt in a medium saucepan. Heat over medium until tootsie rolls dissolve and bring to a simmer.
Slowly add 1 cup of hot milk mixture to the yolks, whisking continuously. Then slowly add the yolk mixture back to the pan, continuing to whisk constantly.
Stirring continuously, bring back to a simmer, and cook until thickened, about 1-3 minutes.
Remove from heat and add the vanilla. Place the pan into the ice bath (make sure no water gets into the filling). Continue to stir the filling until it cools.
Put in an ice bath and stir until cool. Spread evenly in the cooled pie shell. Place plastic wrap directly on the pudding to prevent it from forming a skin. Refrigerate for at least 4 hours.
Using a hand mixer, beat the whipping cream, sugar, and vanilla until fluffy and no longer runny. Spread or pipe the whipped cream on top of the pie. If desired, dust with a light dusting of cocoa powder.
Slice and serve.
Notes
I do highly recommend using pie weights or dry beans to keep the bottom of the crust from poofing up. Just make sure to line the crust with parchment paper, so they don't stick to the crust. If you don't have pie weights or dry beans, you can use a fork to poke the bottom of the crust to keep it from puffing up. Honestly, that is what I had to do for this recipe. The crust still puffed up a bit, but I just stuck the filling in, and everything worked out okay.
While I like making homemade pie crust, you absolutely can use premade pie crust for this recipe if you'd like.
Nutrition Information:
Yield:

8
Serving Size:

1
Amount Per Serving:
Calories:

411
Total Fat:

24g
Saturated Fat:

14g
Trans Fat:

1g
Unsaturated Fat:

8g
Cholesterol:

181mg
Sodium:

143mg
Carbohydrates:

39g
Fiber:

0g
Sugar:

32g
Protein:

9g
Nutrition information is an estimate only.
If you want an easy and amazing Halloween treat, try these easy Oreo eyeball truffles.
Storage
Tootsie Roll Pie should be stored in the refrigerator. It should last 3 to 4 days in the fridge. Loosely cover the pie with foil or plastic wrap. Just try to keep it from touching the whipped cream if you're worried about how it looks.
Can you freeze Tootsie Roll Pie? I would not recommend freezing this pie as it doesn't hold up well in the freezer.
If you like this single serve brownie recipe, let me know! Or if you've made the recipe let me know how it went. I'd love to hear from you in the comments. Happy baking!