Recently I have gotten into making artisan bread. I love the thick, chewy crust and fluffy, moist interior. I wanted to make a healthier twist on artisan bread by making it with 100% whole wheat flour. However, I had a really hard time finding a whole wheat no-knead bread that wasn't overly dense. After some trial and error I was able to create this recipe that results in soft, moist bread. It is great with a bit of butter or honey. You can also serve it alongside olive oil and balsamic vinegar, mixed in a 3 to 1 ratio.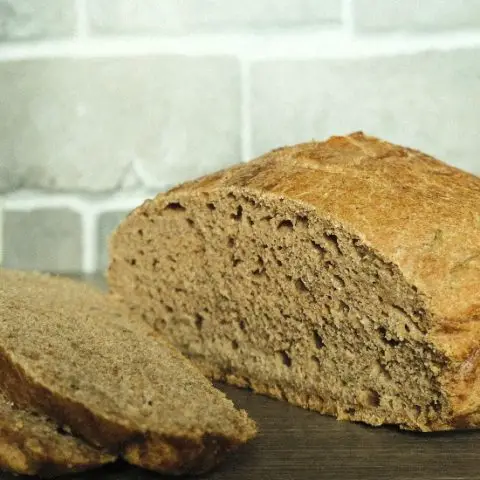 100% Whole Wheat No-Knead Bread
Additional Time:
15 hours
Total Time:
16 hours
15 minutes
Whole Wheat Rosemary Bread is a healthy twist on artisan bread, made with 100% whole wheat flour. It has a crispy, chewy, crust, and moist interior and is full of rosemary flavor.
Ingredients
3.5 cups whole wheat flour
2 cups cool water
1 1/2 tablespoons fresh rosemary (finely chopped)
1 ¼ teaspoons salt
1/4 + 1/8 teaspoon yeast
Instructions
In a large bowl, mix together all of the ingredients. Cover tightly with plastic wrap and let sit for 14 hours until very bubbly. Then add the rosemary and gently stir into the bread, ~6 stirs. Let rest until your oven has preheated.
Take a piece of parchment paper and press it into the shape of your baking dish. You can use a 2.5-3 quart dutch oven or casserole dish as long as it is oven safe and has a lid. Remove the parchment paper and set it aside to use later.
Place your covered baking dish in the oven and set it to 430 degrees Fahrenheit. Wait until oven has preheated to bake your bread.
Carefully remove the container from the oven and place parchment paper inside. Place dough into the container, cover, and bake for 35 minutes. Then uncover and bake another 10 minutes to brown the top of the bread.
Once baked, use the parchment paper to carefully remove the bread from the baking dish. Place on a cooling rack and allow to cool for 1-2 hours. Then slice and serve.
Notes
The rosemary can be left out of the bread if you would like a more neutral flavored bread.
This bread is great as or toasted and topped with butter or honey. It is also great for sandwiches or paninis. You can also serve it with meals alongside olive oil mixed with balsamic vinegar in a 3 to 1 ratio.
Nutrition Information:
Yield:

12
Serving Size:

1
Amount Per Serving:
Calories:

157
Total Fat:

3g
Saturated Fat:

0g
Trans Fat:

0g
Unsaturated Fat:

2g
Cholesterol:

0mg
Sodium:

223mg
Carbohydrates:

29g
Fiber:

4g
Sugar:

0g
Protein:

5g
Nutrition information is an estimate only.
Storage
Because this is artisan bread, it is best served within 1 to 2 days of baking; the fresher, the better. It tends to dry out if not eaten soon after baking. Store in an airtight container at room temperature. If freezing, wrap in plastic wrap, then place in a tightly sealed container. Artisan bread maintains quality 2-3 months after freezing. Check out this article on the best way to thaw bread.
How Whole-Wheat Flour Affects Bread
What's the Difference Between Whole Wheat and White Flour
To start with, let's discussed the difference between whole wheat and white flour. Wheat kernels are made up of three parts, the bran, germ, and endosperm. Whole wheat flour contains the entire wheat kernel, while white flour is almost completely made up of the endosperm portion of a wheat kernel. 
Whole Wheat Flour and Water
So how does this affect you when you're baking bread? The germ and bran in whole wheat flour absorb more liquid than the endosperm. Because of this, whole wheat flour requires more water than white flour. If there isn't enough water, you can end up with a dry product.
Whole Wheat Flour and Bread Volume
In addition, whole wheat bread tends to have difficulty rising properly. This can result in a dense loaf of bread, and the more whole wheat flour you use, the more difficult it is for your bread to rise.
For bread to rise, the gluten strands are developed, which gives dough its strength and allows it to trap the gas made by the yeast. This is what results in the bread rising. Bran and germ in the whole wheat flour actually cut these strands and decrease gluten development. This makes it more difficult for the bread to rise. To help compensate for this, my recipe calls for a longer rest time than you might need for bread made with white flour.
If you made this recipe, I'd love to hear about it! Please leave a review or a comment letting me know how things turned out. Happy baking!