I have always loved Nutella, it is sweet, creamy, and totally delicious. I found that it pairs well with the tangy cream cheese all in a flaky, buttery pastry. Enjoy!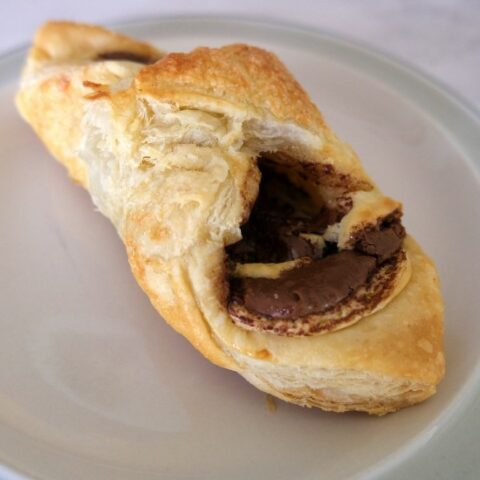 Nutella Cream Cheese Danish
Additional Time:
15 minutes
Flaky, golden brown puff pastry filled with tangy cream cheese and sweet nutella.
Ingredients
Cream Cheese Filling
1 (8oz) package cream cheese (softened)
2 tablespoons granulated sugar
1 egg yolk
1 teaspoon lemon juice
1/4 teaspoon vanilla
Pastry
1 package (2 sheets) of puff pastry
1/2 cup Nutella
1 large egg
1/2 tablespoon granulated sugar
Instructions
Preheat the oven to 350°F. Cover 2 baking sheets with parchment paper. Set aside.
Beat cream cheese and 2 tablespoons of sugar until smooth. Add egg yolk, lemon juice, and vanilla and beat in until smooth and well combined. Set aside.
Cut each pastry sheet into 4 to get 8 squares. Fill the center of the squares with 1 1/2 tablespoons cream cheese filling and 1 tablespoon Nutella. Beat egg and brush two opposite corners of each pastry square. Pinch together, then fold over and gently press down (see image below the recipe).
Brush exposed pastry with beaten egg and sprinkle with remaining 1/2 tablespoon granulated sugar.
Place on baking sheets with 4 pastries on each sheet, at least 2-3 inches apart (they will puff up quite a bit).
Bake 15 to 20 minutes or until crispy and lightly golden brown.
Remove from the oven and allow to cool for 3-4 minutes. Remove from the baking sheet and place on a cooling rack. Allow to cool for at least 15 minutes.
Serve fresh.
Notes
You can also cook your Danishes in an air fryer. Place a couple of inches apart and cook at 350°F for 15 minutes.
You can also use generic hazelnut spread, and the Danishes will taste just as good!
Nutrition Information:
Yield:

8
Serving Size:

1
Amount Per Serving:
Calories:

141
Total Fat:

8g
Saturated Fat:

5g
Trans Fat:

0g
Unsaturated Fat:

2g
Cholesterol:

50mg
Sodium:

36mg
Carbohydrates:

15g
Fiber:

1g
Sugar:

12g
Protein:

2g
Nutrition information is an estimate only.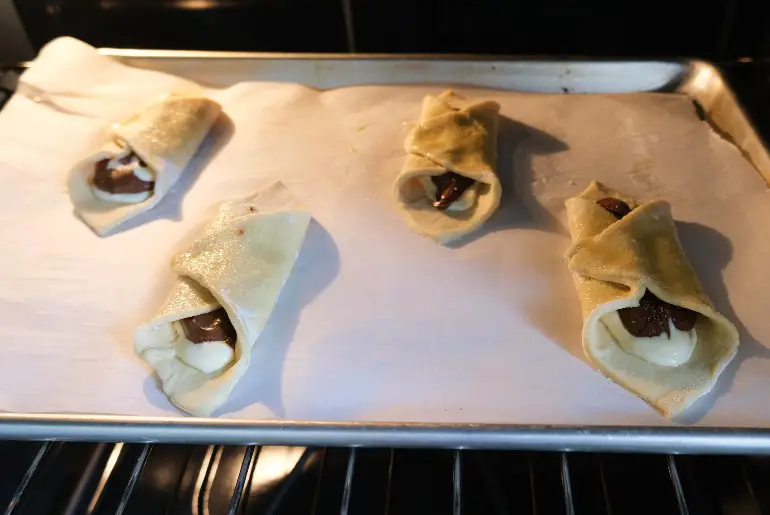 Make sure to leave plenty of room at the ends of the pastry to prevent the filling from overflowing.
If you want to try some other amazing pastries, I recommend these strawberry cream cheese danishes or apple pie danishes.
Storage
Nutella Danishes are best the day they are baked but will last 2-3 days if stored in an airtight container in the fridge. They will also last up to 2 weeks stored in an airtight container in the freezer.
What is Nutella?
Nutella's main ingredients are sugar, palm oil, and ground hazelnuts. It also contains skim milk powder, cocoa, lecithin and vanillin (synthetic vanilla flavoring). These ingredients are mixed to create a smooth, sweet spread.
The lecithin is used to emulsify the ingredients, keeping the spread smooth and preventing the ingredients from separating.
If you like this single serve brownie recipe, let me know! Or if you've made the recipe let me know how it went. I'd love to hear from you in the comments. Happy baking!